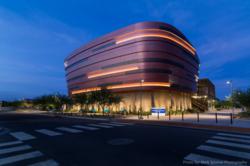 As our community continues to grow and as the demand for highly trained employees in a wide range of occupations rises, the Maricopa Community Colleges have responded to meet that need. --Debra Thompson, Vice Chancellor for Business Services
Tempe, AZ (PRWEB) November 15, 2012
The Maricopa Community Colleges have received three awards of high distinction from the Arizona Chapter of the American Institute of Architects (AIA). GateWay Community College was recognized for its Integrated Education Building (IEB); Paradise Valley Community College for its "Q building," and South Mountain Community College for the highly acclaimed South Mountain Community Library. Each of these projects was made possible with funding from the Colleges' 2004 voter-approved bond program.
"As our community continues to grow and as the demand for highly trained employees in a wide
range of occupations rises, the Maricopa Community Colleges have responded to meet that
need," said Debra Thompson, Vice Chancellor for Business Services. "I congratulate everyone
who worked so hard to improve facilities for our students and the community."
GateWay's IEB features science labs, classrooms, indoor and outdoor art studios, campus
library, learning center, computer area, counseling, disability services, career services, faculty
and staff offices, and enrollment services.
Previously a branch of the county's library system, PVCC's Q building now features 26 classrooms, as well as a mezzanine level general study space and café that encourage students to interact with and learn from fellow students. It also received technology upgrades, including solar tubes that share natural light.
The 50,000-square-foot South Mountain Community Library was funded through the 2006 City of Phoenix Citizens Bond Program and the 2004 Maricopa County Community College District Bond Program. Operated jointly by Phoenix Public Library and South Mountain Community
College, it has been widely honored for sustainability, public art and design.
About the AIA
The AIA Arizona Design Awards program recognizes excellence in design, planning, and construction of projects located anywhere in the world that are designed by AIA Arizona architects registered and licensed in the State of Arizona. The intent of the Design Awards program is to honor the highest standards of design in response to user requirements, site, context, climate, and environment.
###
The 10 regionally accredited Maricopa Community Colleges are: Chandler-Gilbert, Estrella Mountain (and SouthWest Skill Center), GateWay (and Maricopa Skill Center), Glendale, Mesa, Paradise Valley, Phoenix, Rio Salado, Scottsdale and South Mountain; there are satellite campuses and business/industry, technical and customized training institutes Valley-wide