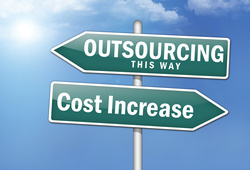 Many building managers don't consider the actual costs of employee turnover when comparing the cost of outsourcing facilities maintenance.
Minneapolis, MN (Vocus) June 30, 2010
Building and facility managers today face a host of frustrations. Those topping the list include dwindling budgets, employee turnover, and project delays. Wise outsourcing of building maintenance can provide a number of short and long range benefits, especially when it comes to employee turnover.
According to Troy Norberg, General Manager of Tru-Serve, Inc., a Minneapolis-St. Paul area property and building maintenance company, "Many building managers don't consider the actual costs of employee turnover when comparing the cost of outsourcing facilities maintenance."
The cost of replacing a vacant position on a building maintenance team can be significant. According to the Bureau of Labor Statistics, the April 2010 employee turnover rate was 3.1%. Filling vacant employee positions can actually cost more after calculating the costs due to the employee leaving as well as recruiting, training, lost productivity and new hire costs.
Closer Look at Employee Turnover Costs
The general approach to calculating employee turnover cost is to use 150% of an employee's annual salary. Another approach to calculating employee turnover uses the cost of hiring and training new staff: total employee turnover cost=costs of hiring new employees + costs of training new employees.
Taking a closer look at the costs to hire and train new employees can be staggering. To calculate employee turnover, a manager should consider:

Costs due to the employee leaving (i.e. lost productivity, conducting exit interview, costs associated with training employee, department/team productivity as other employees fill the gap, cost of lost knowledge, etc.)
Recruitment costs (i.e. advertising costs, recruiter costs, cost to process resumes, conduct interviews, etc.)
Training costs (i.e. orientation costs, cost for person conducting training, cost of training materials, supervisory time to assign, explain and review work, etc.)
Outsourcing Solution for Building Maintenance
"Outsourcing building maintenance lets owners and managers control operating costs, trim down capital expenses, and reduce the need to hire and train onsite staff," said Norberg. "Plus, the outsourced company can easily change as the needs for facilities maintenance change—either an increase or a reduction in trained professionals."
Apart from saving money and reducing employee turnover, outsourcing provides many benefits such as:

Saves time
24/7 service
Staffing flexibility
Range of services
Qualified professionals all the time
Documentation for work done
Ability to handle large projects
Control of operational costs
No worries about vacation coverage
Workers' compensation and insurance coverage provided by outsourced firm
Provides level of consistency
Reduces risk; outsourcing provider manages risk
Quick return on investment
For over two decades, Tru-Serve has been meeting the property and building maintenance needs of clients in the healthcare, residential, commercial and nonprofit industries throughout the Minneapolis and St. Paul metro area. Founded on the belief that maintenance services can be comprehensive, exceptional and provided with personalized care, Tru-Serve consistently proves itself as a top maintenance and consulting services company.
###