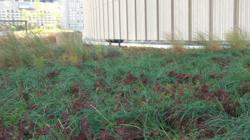 LiveRoof offers assurance that overburden removal is under warranty no matter which manufacturer's membrane is on the roof
Spring Lake, Mich. (PRWEB) March 20, 2012
LiveRoof®, LLC announced its new overburden removal warranty program for the LiveRoof® Hybrid Green Roof System. Under the program, LiveRoof warrants the removal and replacement of LiveRoof modules when they must be taken up in order to assess and repair leaks in roof membranes. Subject to the conditions of the program, the warranty applies to any roof membrane from any membrane manufacturer. Building owners, architects, roof designers and contractors can specify, select and install LiveRoof with the assurance that overburden removal is under warranty no matter which manufacturer's membrane is on the roof.
"Leak repairs are covered by membrane manufacturers' warranties. When a green roof is installed on top, the issue has been who covers the costs of removing and replacing portions of the green roof to gain access to fix membrane leaks," said Dave MacKenzie, horticulturalist and president, LiveRoof, LLC. "Our overburden removal warranty resolves the issue for LiveRoof green roof installations."
The LiveRoof® Overburden Removal Warranty covers installations of the LiveRoof® Hybrid Green Roof System by Diamond Level LiveRoof Certified Installers. The program applies to any brand or type of waterproof membrane system, provided that the membrane has been inspected, tested (using a flood test or electronic leak detection), and certified as being watertight prior to the LiveRoof installation.
"As a LiveRoof Diamond Level Certified Installer, I can bid projects with LiveRoof and any waterproof membrane I want," said Joe Riddiford, vice president, Riddiford Roofing Company. Founded in 1901 and headquartered in Arlington Heights, Ill., Riddiford Roofing Company was selected as a "2011 Contractor of the Year" by Roofing Contractor magazine.
"Overburden removal warranty is a bid requirement on many green roof jobs. Being able to offer the LiveRoof warranty sets us apart from other landscape contractors who install green roofs," said John Kruzshak, estimator, Evergreen Environments, LLC, Sand Hook, Conn. Evergreen Environments has served corporate and high-end residential clients in Connecticut, New York and New Jersey for more than 30 years and is one of the most experienced green roof contractors in the Northeast.
About LiveRoof®, LLC
The LiveRoof® Hybrid Green Roof System (http://www.liveroof.com) is the industry's most refined horticultural solution. LiveRoof modules establish a healthy, sustainable ecosystem on the rooftop to maximize membrane protection, energy savings, environmental benefits, and rooftop aesthetics. Licensed regional growers customize plant selection for every LiveRoof project, and they deliver the modules abundantly vegetated with regionally adapted, locally cultivated plants that are full-grown, thriving, and ready for the rigors of the rooftop. LiveRoof is simple to install. When installed, LiveRoof is an instant green roof, already flourishing for immediate success and years of trouble-free maintenance. LiveRoof's natural function and natural beauty offer the highest level of green roof performance at the lowest level of total ownership costs. The proof is on the roof — showcased in over 600 LiveRoof installations that total more than two million square feet.
###