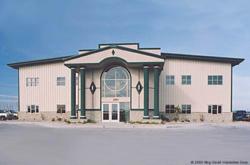 Our low overall cost business model combined with the strength of the Canadian dollar is the reason that Olympia Steel Building Systems has expanded throughout all of Canada
Unionville, Ontario, Canada (PRWEB) February 29, 2012
Olympia Steel Buildings Serving Canada has announced today that they are expanding their offices and have moved to Historic Main Street Unionville into the restored Queens Hotel at 178 Main Street, Unionville, Ontario, Canada.
"Our low overall cost business model combined with the strength of the Canadian dollar is the reason that Olympia Building Systems has expanded throughout all of Canada, requiring opening of our new offices at the Queen's Hotel," explains company Vice President, Steve Wetmore. "Olympia Steel Buildings' team of professionals using our low overall cost business model ensure that our customers are provided with the very best products and services at the lowest possible price available in the market today."
The new Queen's Hotel location of offices for Olympia Steel Buildings Serving Canada, originally built during the 1860's and recently restored, is the landmark of Unionville's Main Street. Unionville is a suburban village in Markham, Ontario, located only 33 km northeast of downtown Toronto. This convenient location makes the new offices easily accessible to customers wishing to personally visit Olympia representatives to discuss their building projects. The population of Unionville is only about 50,000, but with a number of "century homes" dating back to the 19th century, the historic village of Unionville attracts thousands of visitors each year during the Unionville Festival. The quaint main street of the historic town with structures virtually unchanged since its founding in 1794 is renowned for its art galleries, restaurants, shops and unique European views and has been cast as the fictional Connecticut town of "Stars Hollow" during the first season of Gilmore Girls television show, and has appeared as many other television and movie backdrops as well.
"Our professionally trained service specialists provide consistently efficient support on any Canadian project and Canadians respond by buying our buildings," emphasised Wetmore. "That we control all stages of the quoting, design and manufacturing process including Canadian engineering ensures that our metal buildings will meet and exceed all local building codes and quality assurance standards and are built to last a lifetime. Canadian engineered stamped drawings are provided as a part of each building package."
"I would like to encourage our Canadian customers to seize the opportunity of the Canadian dollar and call today," concludes Wetmore. "We look forward to working with our Canadian customers. Our Olympia Steel Buildings team is dedicated to customer service and making each building project the satisfying experience it should be."
About Olympia Steel Buildings Serving Canada
Olympia Steel Buildings are supplied by Universal Steel Buildings Corp, an industry leader in pre-engineered steel buildings for over 40 years, and sole supplier of Olympia Steel Buildings® to commercial, industrial, agricultural, residential, government, military and civilian agencies. Olympia Steel Buildings come with their outstanding weather-resistant PBR roof, or you can opt for their patented Zeus-Shield® standing seam metal roofing system. GSA approved Olympia Steel Buildings set themselves apart by using better materials, better quality control, exceptional customer service and industry-leading warranties, including a 25-year rust through perforation warranty.
Olympia pre-engineered steel buildings are precision engineered and expertly erected to give you a "tight" building that reduces air infiltration into the building saving on HVAC costs. They offer 12 energy efficient colors for metal buildings to reduce cooling costs and come with a 40-year warranty against chipping, cracking, peeling or blistering. Because of such key features, Olympia pre-engineered steel buildings can qualify under LEED Green Building guidelines.
For more information about Olympia Steel Buildings Serving Canada, visit their website http://www.olympiasteelbuildings.ca or call 866-479-3292 for more information.
###