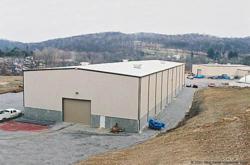 The new warehouse will last a long time – something important to a company that has been in business for 200 years!
Pittsburgh, PA (PRWEB) August 10, 2012
Pennsylvania's Fancher Chair Company has recently selected Universal Steel Buildings to supply and construct their new 9,600 square foot Olympia Steel Buildings® pre-engineered metal building to expand the existing warehouse capacity of their 200-year-old manufacturing company. The new warehouse will expand the storage space for their current 125,000 square foot manufacturing plant that has been producing high-end wooden chairs for the past forty years, allowing expansion of production as Fancher Chair continues to grow its business into the 21st Century.
Fancher Chair is located at the northwest end of the Allegheny National Forest in Pennsylvania with easy access to some of the finest maple, cherry, hickory and oak in the entire world. The company also has access to any other hardwood you could want, including walnut, birch and European beech. With close proximity to Interstates I-86 and I-90, the company has easy access to shipping their products anywhere in the world. The company has been manufacturing products in the US for 200 years.
"The people at Fancher Chair were a pleasure to work with," commented Victor Gutierrez III, Universal Steel Buildings sales manager. "They needed a new warehouse for the existing building and what we were able to design for them was perfect for their needs. And the new warehouse will last a long time – something important to a company that has been in business for 200 years!"
Completion of the new facility is expected to see completion by the end of 2012.
About Olympia Steel Buildings
Olympia Steel Buildings® are supplied by Universal Steel Buildings Corp, an industry leader in pre-engineered steel buildings for over 40 years, and sole supplier of Olympia Steel Buildings® to commercial, industrial, agricultural, residential, government, military and civilian agencies. Olympia Steel Buildings come with their outstanding weather-resistant PBR roof, or you can opt for their patented Zeus-Shield® standing seam metal roofing system. GSA approved Olympia Steel Buildings set themselves apart by using better materials, better quality control, exceptional customer service and industry-leading warranties, including a 25-year rust through perforation warranty.
Olympia pre-engineered steel buildings are precision engineered and expertly erected to give you a "tight" building that reduces air infiltration into the building saving on HVAC costs. They offer 12 energy efficient colors for metal buildings and standing seam metal roofs to reduce cooling costs and come with a 40-year warranty against chipping, cracking, peeling or blistering. Because of such key features, Olympia pre-engineered steel buildings can qualify under LEED Green Building guidelines.
For more information about Olympia Steel Buildings, visit their website http://www.OlympiaBuildings.com or call 888-449-7756 for more information.