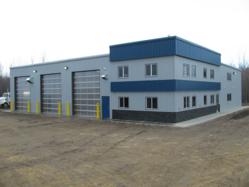 I like the way the Olympia Steel Building design staff took my concept and developed it to a working efficient design
Unionville, Ontario (PRWEB) February 21, 2013
Troy Corsiatto, President of Charisma Construction Inc. chose to work with Olympia Steel Buildings Canada to provide a new facility for Formula Powell L.P. Oilfield Transportation Services located at 1402 Caribou Trail NW, Slave Lake, Alberta, Canada. The 7,040 square foot pre-engineered metal building, the newest of nine locations, consists of three 14x16 bays and a 2,000 square foot two story office. The building size is 80 feet wide by 88 feet long with a single slope 19 / 20.7 foot eve height. The roof features the exclusive Olympia Zeus Shield Standing Seam Roof system.
"My erection crew loves the Olympia Steel Building package as it was shipped complete with no back orders or shortages," explains Corisatto. "I like the way the Olympia Steel Building design staff took my concept and developed it to a working efficient design."
About Olympia Steel Buildings
Olympia Steel Buildings are supplied by Universal Steel Buildings Corp, an industry leader in pre-engineered steel buildings for over 40 years, and sole supplier of Olympia Steel Buildings® to commercial, industrial, agricultural, residential, government, military and civilian agencies. Olympia Steel Buildings come with their outstanding weather-resistant PBR roof, or you can opt for their patented Zeus-Shield® standing seam metal roofing system. Olympia Steel Buildings set themselves apart by using better materials, better quality control, exceptional customer service and industry-leading warranties, including a 25-year rust through perforation warranty. Olympia pre-engineered steel buildings are precision engineered and expertly erected to give you a "tight" building that reduces air infiltration into the building saving on HVAC costs. They offer 12 energy efficient colors for metal buildings to reduce cooling costs and come with a 40-year warranty against chipping, cracking, peeling or blistering. Because of such key features, Olympia pre-engineered steel buildings can qualify under LEED Green Building guidelines.
For more information about Olympia Steel Buildings of Canada, visit their website http://www.olympiasteelbuildings.ca or call 866-479-3292 for more information.