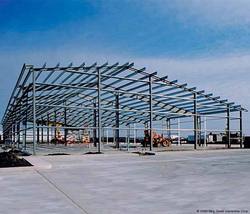 Olympia Steel Buildings has more large building projects up the road
Mc Kees Rocks, PA (Vocus) November 6, 2010
Olympia Steel Buildings has just landed a huge contract to ship buildings into Kazakhstan for a new state of the art manufacturing plant planned for the manufacture modular housing to meet the recent housing development boom.
"Olympia Steel Buildings has more large building projects up the road," stated Arnold Davis, company President. "The oil boom that Kazakhstan is now experiencing has created an urgent need for modular housing and major housing development projects. It is no secret that due to earthquake vulnerability, the entire region is moving away from concrete structures toward the safety and security of solid steel I-beam pre-engineered steel building construction. Strict building codes that apply to pre engineered steel buildings and metal buildings systems assure that pre-engineered steel buildings meet seismic codes and will not crumble and collapse when the earth shakes like other structures do."
Olympia Steel Buildings has established a good infrastructure in Kazakhstan and the surrounding region, having penetrated into markets such as Turkmenistan, Russia and Serbia that are opening to the West and Western business models after the collapse of the Soviet Union. These countries are seeking to move from Third and even Fourth World status and develop their economies, fired by their huge oil reserves, new oil pipelines and the industries that fuel them.
"Olympia Steel Buildings stands ready to deliver buildings anywhere in the world," asserts Davis, "and, we can provide complete turnkey construction packages anywhere in the world, including labor, supervision, erection of steel buildings, concrete work, electrical. We not only prepare the foundation, erect the steel building and install all mechanical systems, we finish the building interior, install drywall, flooring and fixtures and complete all interior painting. We even provide optional landscaping services. We are very excited about the opportunity to introduce Olympia Steel Buildings into Kazakhstan and the entire region. Our experience and knowledge of pre-engineered metal building construction combined with the latest technology in building today deliver a building that is sustainable, cost-effective and energy efficient - and you get a beautiful building."
About Olympia Steel Buildings
Olympia Steel Buildings are supplied by Universal Steel Buildings Corp, an industry leader in pre-engineered steel buildings for over 40 years, and sole supplier of Olympia Steel Buildings® to commercial, industrial, agricultural, residential, government, military and civilian agencies. Olympia Steel Buildings come with their outstanding weather-resistant PBR roof, or you can opt for their patented Zeus-Shield® standing seam metal roofing system. GSA approved Olympia Steel Buildings set themselves apart by using better materials, better quality control, exceptional customer service and industry-leading warranties, including a 25-year rust through perforation warranty and a 50-year warranty on the structural frames. Olympia pre-engineered steel buildings are precision engineered and expertly erected to give you a "tight" building that reduces air infiltration into the building saving on HVAC costs. They offer 12 energy efficient colors for metal buildings to reduce cooling costs and come with a 40-year warranty against chipping, cracking, peeling or blistering. Because of such key features, Olympia pre-engineered steel buildings can qualify under LEED Green Building guidelines. For more information about Olympia Steel Buildings, visit their website http://www.olympiabuildings.com or call 888-449-7756 for more information.
###