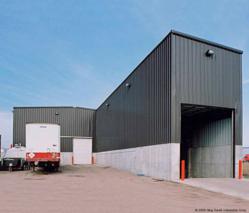 they are going to be thrilled once the building goes up and they see how great it is going to work for their business
Pittsburgh, PA (Vocus/PRWEB) March 22, 2011
Universal Steel Buildings will supply a twelve-thousand square foot Olympia Steel Buildings® pre-engineered steel building to Timm's Auto Salvage, Inc. of St. Charles, Minnesota. The prefabricated metal building is to be used as a commercial scrap yard warehouse for Timm's growing automobile scrap-yard business. The custom-designed eighty by one-hundred fifty foot single-slope metal building will incorporate support for a five-ton crane. Building erection on the new scrap warehouse is to begin June 2011.
In business since 1982, Timm's Auto Salvage specializes in late model new and used automobile parts. "This is a great design for customers in the scrap business," stated Julie Petrarca, experienced metal buildings design consultant and senior estimator with Universal Steel Buildings. "A thirty-two foot crane bay with a twenty-six by twenty door opening accommodates any size truck. The crane allows them to lift and transport up to five tons of scrap."
Ms. Petrarca worked with Timm's Auto Salvage every step of the way to ensure the custom pre-engineered steel building would accommodate the growing business's needs: "This is Timm's Auto Inc's first Olympia Steel Building but I plan on selling them more. They were great to work with and the whole process went very well. I know they are going to be thrilled once the building goes up and they see how great it is going to work for their business."
About Olympia Steel Buildings
Olympia Steel Buildings® are supplied by Universal Steel Buildings Corp, an industry leader in pre-engineered steel buildings for over 40 years, and sole supplier of Olympia Steel Buildings® to commercial, industrial, agricultural, residential, government, military and civilian agencies. Olympia Steel Buildings come with their outstanding weather-resistant PBR roof, or you can opt for their patented Zeus-Shield® standing seam metal roofing system. GSA approved Olympia Steel Buildings set themselves apart by using better materials, better quality control, exceptional customer service and industry-leading warranties, including a 25-year rust through perforation warranty. Olympia pre-engineered steel buildings are precision engineered and expertly erected to give you a "tight" building that reduces air infiltration into the building saving on HVAC costs. They offer 12 energy efficient colors for metal buildings to reduce cooling costs and come with a 40-year warranty against chipping, cracking, peeling or blistering. Because of such key features, Olympia pre-engineered steel buildings can qualify under LEED Green Building guidelines. For more information about Olympia Steel Buildings, visit their website http://www.OlympiaBuildings.com or call 888-449-7756 for more information.
###