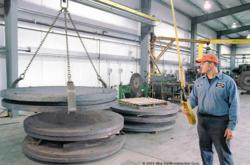 The Company likes the quality of our product and the excellent customer service I've provided
Pittsburgh, Pennsylvania (Vocus/PRWEB) April 02, 2011
Universal Steel Buildings Corp. will supply and erect two new Olympia Steel Buildings® pre-engineered steel buildings for local Pittsburgh, Pennsylvania company, Three Rivers Scrap Metal, Inc. The metal buildings are planned for expansion of their Conway facility in Beaver County Pennsylvania. Construction on the building project is to begin at the end of May 2011.
Established in 1993, Three Rivers Scrap Metal, Inc., a highly specialized roll-off and pick-up service has grown from a one-man operation from a pick-up truck to one of the leading privately owned scrap companies in Pittsburgh. They are a repeat customer of Universal Steel Buildings, having purchased pre-engineered metal building components to rehab their main facility on Pittsburgh's North Shore two years ago, with Universal Steel Buildings supplying both material and labor.
Three Rivers Scrap Metal offers a variety of metal recycling services, including purchasing of both ferrous and non-ferrous metals, aluminum, copper, brass, stainless steel, nickel alloys and steel, metal analysis and sortation, roll-off service, and cleanouts of industrial facilities of scrap metal and debris.
Universal Steel Buildings Corp. will design, engineer, supply and erect two pre-engineered steel buildings for the Conway site. One will be a ten thousand square foot building designed to house a large piece of recycling equipment. The other, a three-thousand three-hundred square foot single-slope metal building will allow for drive-in capability and material storage.
"Chuck Menzock, owner of Three Rives Scrap Metal said we weren't the cheapest, but he likes the quality of our product and the excellent customer service I've provided," commented Julia Petrarca, Senior Building Consultant for Universal Steel Buildings Corp. "That's why he stays with Olympia Steel Buildings and keeps buying from me."
About Olympia Steel Buildings
Olympia Steel Buildings are supplied by Universal Steel Buildings Corp, an industry leader in pre-engineered steel buildings for over 40 years, and sole supplier of Olympia Steel Buildings® to commercial, industrial, agricultural, residential, government, military and civilian agencies. Olympia Steel Buildings come with their outstanding weather-resistant PBR roof, or you can opt for their patented Zeus-Shield® standing seam metal roofing system. GSA approved Olympia Steel Buildings set themselves apart by using better materials, better quality control, exceptional customer service and industry-leading warranties, including a 25-year rust through perforation warranty. Olympia pre-engineered steel buildings are precision engineered and expertly erected to give you a "tight" building that reduces air infiltration into the building saving on HVAC costs. They offer 12 energy efficient colors for metal buildings to reduce cooling costs and come with a 40-year warranty against chipping, cracking, peeling or blistering. Because of such key features, Olympia pre-engineered steel buildings can qualify under LEED Green Building guidelines. For more information about Olympia Steel Buildings, visit their website http://www.olympiabuildings.com or call 888-449-7756 for more information.
###