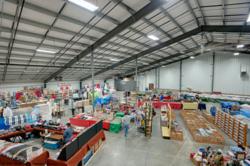 Steel building construction is a cost-effective and environmentally friendly way to build
Pittsburgh, Pennsylvania (Vocus/PRWEB) April 10, 2011
Universal Steel Buildings Corp. provided a timesaving, cost-effective building solution after a fire recently destroyed Four Seasons Flea Market, one of the largest indoor/outdoor flea markets in the state of Ohio. The Youngstown fire department had declared the 88,000 square foot structure a total loss. Everything inside the building had been destroyed, including the goods for sale of more than six hundred flea market vendors. Four Seasons vowed to rebuild quickly, promising loyal customers and vendors that the new structure would be fire resistant, unlike the stick built building the fire had so completely destroyed along with its contents.
"A major advantage of steel construction is that steel is incombustible," stated Arnold Davis, Company President. "Steel building construction is also cost-effective and an environmentally friendly way to build."
After discussing their needs and building requirements, Universal Steel Buildings pre-engineered metal buildings consultants helped Four Seasons Flea Market get exactly what they needed to re-build. Universal Steel Buildings designed, engineered and supplied an Olympia Steel Buildings pre-engineered metal building measuring 125 feet wide by 225 feet long on a block foundation with a state-of-the-art standing seam metal roof to house the new flea market, providing a fire resistant structure engineered to withstand all that Ohio's weather can throw at it.
Open year round every Wednesday and Sunday from 8 a.m. to 5 p.m., the newly re-opened Four Seasons Flea Market includes the largest outdoor fresh farm market in Ohio. The spacious high-ceiling clearspan interior space in the new Olympia pre-engineered steel building includes booths for up to 600 vendors selling everything from Amish baked goods to health and beauty products. The building also includes a deli, a food outlet, new and used merchandise, public restrooms and a boutique. Huge ceiling fans add to the character and comfort of the bright and appealing indoor space and the unique truss-less steel building design lowers energy costs and keeps the building comfortable year-round.
About Olympia Steel Buildings
Olympia Steel Buildings are supplied by Universal Steel Buildings Corp, an industry leader in pre-engineered steel buildings for over 40 years, and sole supplier of Olympia Steel Buildings® to commercial, industrial, agricultural, residential, government, military and civilian agencies. Olympia Steel Buildings come with their outstanding weather-resistant PBR roof, or you can opt for their patented Zeus-Shield® standing seam metal roofing system. GSA approved Olympia Steel Buildings set themselves apart by using better materials, better quality control, exceptional customer service and industry-leading warranties, including a 25-year rust through perforation warranty. Olympia pre-engineered steel buildings are precision engineered and expertly erected to give you a "tight" building that reduces air infiltration into the building saving on HVAC costs. They offer 12 energy efficient colors for metal buildings to reduce cooling costs and come with a 40-year warranty against chipping, cracking, peeling or blistering. Because of such key features, Olympia pre-engineered steel buildings can qualify under LEED Green Building guidelines. For more information about Olympia Steel Buildings, visit their website http://www.olympiabuildings.com or call 888-449-7756 for more information.
# # #