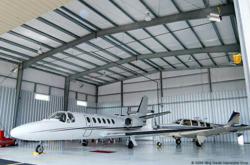 the new hangar and air terminal will be ready to accommodate the many NASCAR fans who will be flying in to enjoy the race
Pittsburgh, PA (PRWEB) April 30, 2011
Universal Steel Buildings has contracted to design, engineer and supply three Olympia Steel Buildings® pre-engineered steel buildings to FirstAIR Group of Horseheads, New York. Universal Steel Buildings Construction Services will complete the concrete work and erect the prefabricated metal buildings planned for the hangar-terminal complex on site. Construction on the more than twelve thousand square foot multi-purpose pre-engineered metal building hangar-airport terminal complex will begin in May of this year.
FirstAIR Group Inc is a company comprised of Aviation, Development and Business Resource professionals, providing aircraft maintenance, aircraft charter and sales, helicopter scenic rides and photography, and International Airport Development in Horseheads, New York near the Elimira-Corning Regional Airport.
The new Olympia Steel Buildings airplane hangar will accommodate a large Kingair Twin Jet and a jet-propelled helicopter used to provide scenic Finger Lakes area tours, as well as to accommodate maintenance areas for commercial airlines and private planes. The hangar-terminal complex is comprised of three pre-engineered steel buildings connected into one huge twelve-thousand foot complex with a one-hundred foot clearspan that arcs thirty-five feet into the air providing ample space for the planes garaged for maintenance and protection from the elements. An existing t-hangar on the property will be coming down later this year to make room for additional pre-engineered steel airplane hangars once the current construction project is completed.
"It's a very exciting project for us," states Darin Skomo, project manager for the Construction Division of Universal Steel Buildings. "The scenery on the drive from Pittsburgh to FirstAir's Horseheads, New York location through the Allegheny National Forest is breathtaking. The project itself is challenging: designing three pre-engineered steel buildings to connect as one with a one-hundred foot clearspan arching thirty-five feet into the air to provide clearance for the planes that will be garaged there," continues Skomo. "We will finish construction before the big Watkins Glenn NASCAR race in August so the new hangar and air terminal will be ready to accommodate the many NASCAR fans who will be flying in to enjoy the race."
Because of the strength and durability of steel and the remarkable clearspan space that is achievable with Olympia Steel Buildings unique trussless metal building design – up to three hundred feet of completely clearspan space with no obstructing columns - pre-engineered metal building construction is ideal for aircraft hangars and air terminals. Universal Steel Buildings supplies Olympia Steel Buildings pre-engineered steel buildings and metal building systems to private and commercial airports, military and civilian agencies and FBO's all over the world.
About Olympia Steel Buildings
Olympia Steel Buildings are supplied by Universal Steel Buildings Corp, an industry leader in pre-engineered steel buildings for over 40 years, and sole supplier of Olympia Steel Buildings® to commercial, industrial, agricultural, residential, government, military and civilian agencies. Olympia Steel Buildings come with their outstanding weather-resistant PBR roof, or you can opt for their patented Zeus-Shield® standing seam metal roofing system.
GSA approved Olympia Steel Buildings set themselves apart by using better materials, better quality control, exceptional customer service and industry-leading warranties, including a 25-year rust through perforation warranty. Olympia pre-engineered steel buildings are precision engineered and expertly erected to give you a "tight" building that reduces air infiltration into the building saving on HVAC costs. They offer 12 energy efficient colors for metal buildings to reduce cooling costs and come with a 40-year warranty against chipping, cracking, peeling or blistering. Because of such key features, Olympia pre-engineered steel buildings can qualify under LEED Green Building guidelines. For more information about Olympia Steel Buildings, visit their website http://www.olympiabuildings.com or call 888-449-7756 for more information.
###