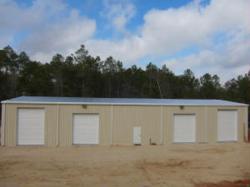 We did it all – we supplied the building with concrete, building erection, doors, everything. I'm very proud
Pittsburgh, PA (PRWEB) May 12, 2011
Universal Steel Buildings Corp. recently announced the supply of a turnkey Olympia Steel Buildings pre-engineered metal building to Orange Beach, Alabama company, Marine Engine Maintenance, Inc. The five-thousand square foot state of the art steel building is to be used as an engine rebuild shop to service the U.S. Coast Guard's 87' Patrol Boat Fleet.
"Anytime, Anywhere" is the motto of Marine Engine Maintenance, Inc., a GSA Contractor who's mission is to provide technical advice and service to the U.S. Coast Guard's 87' Patrol Boat Fleet, used to execute law enforcement, marine environmental protection, ports, waterways and coastal security, as well as other Coast Guard missions.
When owner/operator Kevin Simpson recently decided to expand his marine engine maintenance business, he put his trust in Olympia Steel Buildings to get him the best pre-engineered metal building possible and take care of all the details. He opted for pre-engineered metal building construction because of the time-factor: pre-engineered metal buildings take much less time than conventional construction, and steel buildings are more durable, particularly in a marine environment. The Marine Engine Maintenance turnkey metal building construction project included building design, engineering and supply, concrete work and erection of the pre-engineered steel building on site, as well as supply of doors and windows.
"They're very happy for sure, they're really happy with their state-of-the-art Olympia Steel Buildings pre-engineered steel building," states Victor Gutierrez III, Senior Building Consultant. "It's an honor and a privilege to be able to help keep America safe, helping Marine Engine Maintenance keep the Coast Guard Patrol Boat Fleet afloat and patrolling our off-shore waters. We did it all – we supplied the building with concrete, building erection, doors, everything. I'm very proud. We provided them a great product that will give them many years of maintenance-free service and utility."
About Olympia Steel Buildings
Olympia Steel Buildings® are supplied by Universal Steel Buildings Corp, an industry leader in pre-engineered steel buildings for over 40 years, and sole supplier of Olympia Steel Buildings® to commercial, industrial, agricultural, residential, government, military and civilian agencies.
Olympia Steel Buildings come with their outstanding weather-resistant PBR roof, or you can opt for their patented Zeus-Shield® standing seam metal roofing system. GSA approved Olympia Steel Buildings set themselves apart by using better materials, better quality control, exceptional customer service and industry-leading warranties, including a 25-year rust through perforation warranty.
Olympia pre-engineered steel buildings are precision engineered and expertly erected to give you a "tight" building that reduces air infiltration into the building saving on HVAC costs. They offer 12 energy efficient colors for metal buildings to reduce cooling costs and come with a 40-year warranty against chipping, cracking, peeling or blistering. Because of such key features, Olympia pre-engineered steel buildings can qualify under LEED Green Building guidelines. For more information about Olympia Steel Buildings, visit their website http://www.OlympiaBuildings.com or call 888-449-7756 for more information.
###