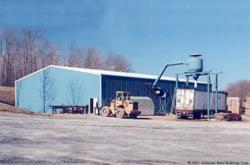 Olympia Steel Buildings are Green, with steel being one of the most recycled materials on the planet
Pittsburgh, PA (PRWEB) June 03, 2011
Universal Steel Buildings Corp. recently announced a second building construction project for Waste Management, Inc. in Bordentown, NJ. Universal Steel Buildings will design, engineer, supply and erect a 1,200 square foot Olympia Steel Buildings pre-engineered steel industrial building for equipment storage and waste recycling. Waste Management, Inc., serving over 20 million residential, industrial, municipal and commercial customers, is North America's leading provider of integrated environmental solutions.
"This is the second building project we've completed for Waste Management in Bordentown in two years," states Darin Skomo, project manager. "Waste Management is a good company to work with and we're looking forward to providing pre-engineered metal buildings for many new facilities as the company continues to grow in the coming years. It's a great project for us. Waste Management is a Green company, they care about the environment, and Olympia Steel Buildings are Green, with steel being one of the most recycled materials on the planet. It's a win-win situation all around."
About Olympia Steel Buildings
Olympia Steel Buildings are supplied by Universal Steel Buildings Corp, an industry leader in pre-engineered steel buildings for over 40 years, and sole supplier of Olympia Steel Buildings® to commercial, industrial, agricultural, residential, government, military and civilian agencies.
Olympia Steel Buildings come with their outstanding weather-resistant PBR roof, or you can opt for their patented Zeus-Shield® standing seam metal roofing system. GSA approved Olympia Steel Buildings set themselves apart by using better materials, better quality control, exceptional customer service and industry-leading warranties, including a 25-year rust through perforation warranty. Olympia pre-engineered steel buildings are precision engineered and expertly erected to give you a "tight" building that reduces air infiltration into the building saving on HVAC costs.
They offer 12 energy efficient colors for metal buildings to reduce cooling costs and come with a 40-year warranty against chipping, cracking, peeling or blistering. Because of such key features, Olympia pre-engineered steel buildings can qualify under LEED Green Building guidelines. For more information about Olympia Steel Buildings, visit their website http://www.olympiabuildings.com or call 888-449-7756 for more information.
###