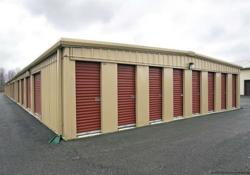 I'm proud to be part of Olympia Steel
Unionville, Ontario (PRWEB) July 01, 2011
Olympia Steel Buildings of Canada has contracted to design, engineer and supply five pre-engineered mini-storage warehouse steel buildings for a new mini-storage facility near Kamloops, British Columbia. Construction is scheduled for completion in summer 2011. The five pre-engineered steel buildings are each 30' x 100' providing a total of fifteen-thousand square feet of available rental storage space.
Kamloops, situated in the Thompson Valley near the confluence of the north and south branches of the Thompson River with suburbs stretching for more than a dozen kilometers along both north and south branches, as well as to the steep hillsides along the south portion of the city and lower northeast hillsides, presents a growing rental storage market.
"I was very impressed by the thorough answers provided by our mini-storage specialist, Annabelle Miranda," stated mini-storage owner, Laurie Patmore. "We couldn't have done it without her expert guidance and mini-storage knowledge and design expertise."
Host of the 1993 Canada Summer Games, Kamloops is also a transportation hub for the region of the confluence of the North and South Thomson rivers and as many growing regions in Canada are finding, there is an increasing need for safe, well-constructed self-storage and mini-storage warehouse rental facilities. Due to the fast turn-around of Olympia Steel Buildings pre-engineered mini-storage warehouse metal buildings, from design through engineering to supply and construction, Patmore was able to quickly capitalize on the opportunity to serve the growing storage rental market.
"It was a pleasure to work with Mr. Patmore," affirmed mini-storage specialist, Annabelle Miranda. "Olympia Steel Buildings of Canada continues to strive to provide convenient, safe, and cost effective mini-warehouse metal building systems to meet the growing demand for self-storage in Canada. I'm proud to be part of Olympia Steel."
About Olympia Steel Buildings
Olympia Steel Buildings are supplied by Universal Steel Buildings Corp, an industry leader in pre-engineered steel buildings for over 40 years, and sole supplier of Olympia Steel Buildings® to commercial, industrial, agricultural, residential, government, military and civilian agencies. Olympia Steel Buildings come with their outstanding weather-resistant PBR roof, or you can opt for their patented Zeus-Shield® standing seam metal roofing system.
GSA approved Olympia Steel Buildings set themselves apart by using better materials, better quality control, exceptional customer service and industry-leading warranties, including a 25-year rust through perforation warranty. Olympia pre-engineered steel buildings are precision engineered and expertly erected to give you a "tight" building that reduces air infiltration into the building saving on HVAC costs. They offer 12 energy efficient colors for metal buildings to reduce cooling costs and come with a 40-year warranty against chipping, cracking, peeling or blistering. Because of such key features, Olympia pre-engineered steel buildings can qualify under LEED Green Building guidelines.
For more information about Olympia Steel Buildings, visit their website http://www.olympiasteelbuildings.ca or call 866-479-3292 for more information.
###