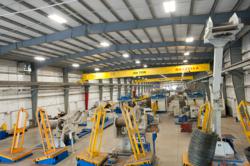 That's the great thing about metal building construction – it can grow with the customer's needs
Olathe, KS (PRWEB) July 09, 2011
Universal Steel Buildings recently announced the sale of a turnkey Olympia Steel Buildings pre-engineered metal building system to Rice Precision Manufacturing of Baldwin City, Kansas to house their new manufacturing facility. Construction on the new twelve-thousand one-hundred fifty square foot pre-engineered steel building for the new manufacturing facility is to begin in September 2011.
Rice manufacturing prides itself on its Mazak Mazatrol high quality highly accurate CNC machines used in machining parts for industrial applications. "Quality, precision machining and fabrication gives our clients the customer satisfaction necessary for long term relationships," states Bryan Rice, owner of Rice Manufacturing. The CNC equipment will be housed in the new state-of-the-art manufacturing facility where the company will conduct CNC milling, CNC turning, grinding, honing, heat-treating, precision fabricating, MIG & TIG welding, maching building, mold, tool, & die. The addition of the new prefabricated metal building to the existing Rice facility will allow the thriving business to continue in its rapid growth.
"The customer, owner Bryan Rice, loves the quality of Olympia Steel Buildings," says Mark Creighton, senior pre-engineered steel building consultant operating out of the newly opened Olathe office of Universal Steel Buildings in Kansas. "He [Rice] also appreciated the fact that I came out to see him, to look over the property where he wanted to build. We discussed in detail exactly what he needed and when I put the turnkey building package together for him, he was delighted. The building is going to look great both inside and out. It's perfect for housing his manufacturing business and the best thing about it is that as Rice Precision Manufacturing continues to grow, the building can expand to meet their needs. That's the great thing about metal building construction – it can grow with the customer's needs."
About Olympia Steel Buildings
Olympia Steel Buildings are supplied by Universal Steel Buildings Corp, an industry leader in pre-engineered steel buildings for over 40 years, and sole supplier of Olympia Steel Buildings® to commercial, industrial, agricultural, residential, government, military and civilian agencies. Olympia Steel Buildings come with their outstanding weather-resistant PBR roof, or you can opt for their patented Zeus-Shield® standing seam metal roofing system.
GSA approved Olympia Steel Buildings set themselves apart by using better materials, better quality control, exceptional customer service and industry-leading warranties, including a 25-year rust through perforation warranty. Olympia pre-engineered steel buildings are precision engineered and expertly erected to give you a "tight" building that reduces air infiltration into the building saving on HVAC costs. They offer 12 energy efficient colors for metal buildings to reduce cooling costs and come with a 40-year warranty against chipping, cracking, peeling or blistering. Because of such key features, Olympia pre-engineered steel buildings can qualify under LEED Green Building guidelines.
For more information about Olympia Steel Buildings, visit their website http://www.olympiabuildings.com or call 888-449-7756 for more information.
###