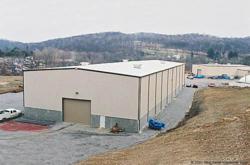 Not many people realize that Olympia Steel delivers buildings not only in the United States, but all over the world and I'm happy to get the word out.
Pittsburgh, PA (PRWEB) July 19, 2011
Universal Steel Buildings recently announced the engineering, design and supply of three Olympia Steel Buildings pre-engineered metal warehouse buildings to a mining company in the Republic of Panama. The prefabricated steel buildings are each six-thousand square feet for a total of eighteen-thousand square feet of industrial warehouse storage space.
"I received this week the two containers without any delays and the structures and components inside [were] in perfect conditions. I like very much the buildings. I want to thank you and the personnel involved on the packing of the three building for their professionalism and interest they took for protecting the loads. Willing to continue business with Olympia," writes customer Luis Paniza
Mining operations are reviving in Panama, including an increase in exploration authorizations due to the recent rise in mineral prices. This increase in exploration and mining operations signals a need for expansion of facilities for storing equipment and machinery as well as the commodities mined. Panama-guide.com reports that in 2004 investment in Panamanian mining suddenly became a smart business decision, especially with regard to copper and gold. Reports indicate that investment money started pouring into the country and has not stopped. The numbers are estimated to be in the billions.
"The customer was wonderful to deal with," stated Eric Adham, senior Olympia Steel Buildings pre-engineered building consultant. "They were very happy with the customer service I provided them and have acted as a reference to my international building customers. Not many people realize that Olympia Steel delivers buildings not only in the United States, but all over the world and I'm happy to get the word out."
About Olympia Steel Buildings
Olympia Steel Buildings® are supplied by Universal Steel Buildings Corp, an industry leader in pre-engineered steel buildings for over 40 years, and sole supplier of Olympia Steel Buildings® to commercial, industrial, agricultural, residential, government, military and civilian agencies. Olympia Steel Buildings come with their outstanding weather-resistant PBR roof, or you can opt for their patented Zeus-Shield® standing seam metal roofing system. GSA approved Olympia Steel Buildings set themselves apart by using better materials, better quality control, exceptional customer service and industry-leading warranties, including a 25-year rust through perforation warranty. Olympia pre-engineered steel buildings are precision engineered and expertly erected to give you a "tight" building that reduces air infiltration into the building saving on HVAC costs. They offer 12 energy efficient colors for metal buildings to reduce cooling costs and come with a 40-year warranty against chipping, cracking, peeling or blistering. Because of such key features, Olympia pre-engineered steel buildings can qualify under LEED Green Building guidelines. For more information about Olympia Steel Buildings, visit their website http://www.OlympiaBuildings.com or call 888-449-7756 for more information.
###