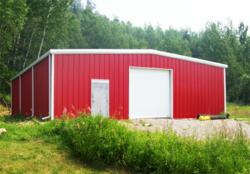 Olympia pre-engineered steel buildings really stand up to Canadian winters, even in extreme Northwestern Ontario.
Unionville, Ontario Canada (PRWEB) July 22, 2011
Olympia Steel Buildings of Canada recently supplied a two-thousand square foot Olympia Steel Buildings general storage use pre-engineered metal building to Biinjitiwaabik Zaaging Anishinaabek/Rocky Bay First Nation Reserve, approximately 1300 kilometres north of Toronto, where the roads end. The building is to store boats, trucks and general construction materials.
The Biinjitiwaabik Zaaging Anishinaabek, formerly known as Rocky Bay First Nation, is an Ojibwa First Nation in Northwestern Ontario, Canada. The Rocky Bay Band was officially constituted in 1960 and their territory is located on the Rocky Bay 1 Indian reserve in Greenstone, Ontario, near Macdiarmid. In 2008, the Biinjitiwaabik Zaaging Anishinaabek had a total registered population of 678 people.
"This looked like a big project at the beginning," stated Rocky Bay First Nation Housing Manager, Andre Nobis, speaking about the new storage metal building he constructed. "But after all the parts were identified and the foundation went in, our own crew, with no training for this type of construction, had it done in 10 days. Minus the two days we had to wait for an inspection. Simple and hassle free."
Although geographically isolated, with the nearest service centre in the city of Thunder Bay, approximately 160 km southwest of the community, Biinjitiwaabik Zaaging Anishinaabek has many modern community services and amenities, including a one story Band Administration Building, with eight offices, Chief and Council Boardroom, kitchen facilities, storage facilities, three washrooms and a reception area. There is also a medical centre, a beautiful ten-thousand square foot recreation and community centre able to accommodate up to six hundred people, and an indoor ice rink, built in 2004, equipped with benches and used for hockey practices, public skating and school outings. A Zamboni machine is used to flood the ice.
"Olympia pre-engineered steel buildings really stand up to Canadian winters, even in extreme Northwestern Ontario," remarked Steve Wetmore, vice president of Olympia Steel Buildings of Canada. "They are engineered to meet all Canadian specifications, including CSA-A660 Quality Certification for Steel Building Systems. It was indeed a special pleasure to assist Rocky Bay First Nation in securing a building for their storage needs. It's a great building and I know they will put it to good use."
About Olympia Steel Buildings
Olympia Steel Buildings are supplied by Universal Steel Buildings Corp, an industry leader in pre-engineered steel buildings for over 40 years, and sole supplier of Olympia Steel Buildings® to commercial, industrial, agricultural, residential, government, military and civilian agencies. Olympia Steel Buildings come with their outstanding weather-resistant PBR roof, or you can opt for their patented Zeus-Shield® standing seam metal roofing system.
GSA approved Olympia Steel Buildings set themselves apart by using better materials, better quality control, exceptional customer service and industry-leading warranties, including a 25-year rust through perforation warranty. Olympia pre-engineered steel buildings are precision engineered and expertly erected to give you a "tight" building that reduces air infiltration into the building saving on HVAC costs. They offer 12 energy efficient colors for metal buildings to reduce cooling costs and come with a 40-year warranty against chipping, cracking, peeling or blistering. Because of such key features, Olympia pre-engineered steel buildings can qualify under LEED Green Building guidelines.
For more information about Olympia Steel Buildings of Canada, visit their website http://www.olympiasteelbuildings.ca or call 866-479-3292 for more information.
###