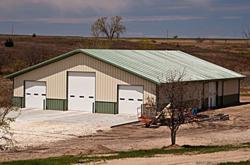 It is important that steel building customers act now to secure expanded Section 179 Federal tax benefits
Pittsburgh, Pennsylvania (PRWEB) September 22, 2011
Universal Steel Buildings is alerting their farm customers for Olympia Steel Buildings® pre-engineered steel buildings and metal buildings systems that the expansion of Section 179 Federal tax benefits will expire by the end of the year. Currently, farmers can take 100% bonus depreciation on new assets, including most new agricultural structures and farm buildings that qualify under the temporary expansion of Section179 tax benefits, but only until December 31, 2011.
"Olympia has received several orders in the last several weeks from farmers taking advantage of the expansion of the Section 179 tax deduction to $500,000 and the introduction of 100 percent bonus depreciation for new assets bought after September 8, 2010, and before January 1, 2012," stated Lucas Hocker, vice president of Olympia Steel Buildings.
According to Section 179 of the Federal Income Tax code, any new farm building purchased and placed into service during 2011 can qualify for the 100% bonus depreciation for federal income tax purposes. This can include a machine shed, hay shed, storage shed, barn, even a residential building if owned by a C corporation.
While any new building on a farm placed in service between September 9, 2010 and December 31, 2011 can qualify for the 100% bonus depreciation, only single purpose agricultural buildings such as a hog confinement building, a greenhouse, dairy barn facility, or horse barn with stalls, can qualify for the Section 179 deduction that has only temporarily been expanded up to $500,000 until January, 2012.
"It is important that steel building customers act now to secure expanded Section 179 Federal tax benefits," stresses Hocker. "If they are planning to build in the near future, it is important for customers to call their steel building dealer soon to get a price on an agricultural steel building or get a farm metal building quote before time runs out on the expanded Section 179 Federal tax deductions. Once the customer has their steel building quote in hand, then they should meet with their tax advisor to find out whether the building qualifies under Section 179 and what the best tax strategy is for them on their farm building purchase."
About Olympia Steel Buildings
Olympia Steel Buildings® are supplied by Universal Steel Buildings Corp, an industry leader in pre-engineered steel buildings for over 40 years, and sole supplier of Olympia Steel Buildings® to commercial, industrial, agricultural, residential, government, military and civilian agencies.
Olympia Steel Buildings come with their outstanding weather-resistant PBR roof, or you can opt for their patented Zeus-Shield® standing seam metal roofing system. GSA approved Olympia Steel Buildings set themselves apart by using better materials, better quality control, exceptional customer service and industry-leading warranties, including a 25-year rust through perforation warranty.
Olympia pre-engineered steel buildings are precision engineered and expertly erected to give you a "tight" building that reduces air infiltration into the building saving on HVAC costs. They offer 12 energy efficient colors for metal buildings and standing seam metal roofs to reduce cooling costs and come with a 40-year warranty against chipping, cracking, peeling or blistering. Because of such key features, Olympia pre-engineered steel buildings can qualify under LEED Green Building guidelines.
For more information about Olympia Steel Buildings, visit their website http://www.OlympiaBuildings.com or call 888-449-7756 for more information.
###