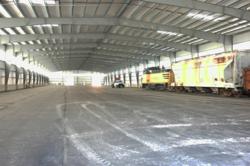 The two pre-engineered metal buildings are a big project; with sky lights, a stem wall and a train track running through the length of the building
Pittsburgh, Pennsylvania (PRWEB) September 27, 2011
Universal Steel Buildings construction services recently supplied and constructed a 40,000 square foot pre-engineered Olympia Steel Buildings warehouse metal building for Pennsylvania company, McKees Rocks Industrial Enterprises, Inc. (MRIE).
MRIE's newly constructed Green warehouse facility includes Eco-friendly design, forty-thousand square feet of indoor space for storage and distribution of bulk material, secure access and direct rail access with their own on-site railroad running through the length of the building from front to back allowing freight to be brought directly into the building by train.
"The owner and CEO, James Lind, is very happy with the new building and has ordered a second 82' x 228' foot steel building to be constructed adjacent to the first for storage of sand and gravel," states Jonathan Mass, Design Estimator for Olympia Steel Buildings Systems. "The two pre-engineered metal buildings are a big project; with sky lights, a stem wall and the train track running through the length of the building." Completion of the second steel building to be constructed on-site is expected for November or early December 2011.
MRIE has been in the material handling business for over thirty years. The MRIE Northeast terminal is known in the global Market and is devoted to bulk material distribution and warehousing. The facility serves as both an industrial park and terminal facility that stores, processes, blends, bags, screens, dries and distributes various bulk materials, coal, steel, and a variety of products and packed goods throughout the Northeast, Mid-Atlantic and Canada. The facility is equipped to receive and handle both inbound and outbound materials via barge, rail or truck.
The MRIE Northeast terminal is part of the Port-of-Pittsburgh, the nation's largest inland port and is the last bulk center on the inland waterway system. The company's new buildings are within close proximity to the Pennsylvania Turnpike and other major Interstate highways. Rail service is provided by CSXT and Norfolk Southern with switching through PAM, their own on-site railroad that can accommodate up to one hundred cars. Due to MRIE's strategic location and the moderate Southwestern Pennsylvania winters, the facility serves as a year-round overnight distribution center for commodities going to the Northeast USA and Canada.
About Olympia Steel Buildings
Olympia Steel Buildings® are supplied by Universal Steel Buildings Corp, an industry leader in pre-engineered steel buildings for over 40 years, and sole supplier of Olympia Steel Buildings® to commercial, industrial, agricultural, residential, government, military and civilian agencies.
Olympia Steel Buildings come with their outstanding weather-resistant PBR roof, or you can opt for their patented Zeus-Shield® standing seam metal roofing system. GSA approved Olympia Steel Buildings set themselves apart by using better materials, better quality control, exceptional customer service and industry-leading warranties, including a 25-year rust through perforation warranty.
Olympia pre-engineered steel buildings are precision engineered and expertly erected to give you a "tight" building that reduces air infiltration into the building saving on HVAC costs. They offer 12 energy efficient colors for metal buildings and standing seam metal roofs to reduce cooling costs and come with a 40-year warranty against chipping, cracking, peeling or blistering. Because of such key features, Olympia pre-engineered steel buildings can qualify under LEED Green Building guidelines.
For more information about Olympia Steel Buildings, visit their website http://www.OlympiaBuildings.com or call 888-449-7756 for more information.
###