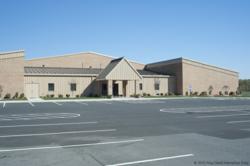 They were very impressed by what they saw there, with the quality control and professional engineering and design
Pittsburgh, PA (PRWEB) October 12, 2011
Universal Steel Buildings has been engaged to supply and construct a new Olympia Steel Buildings pre-engineered steel building for Winchester Virginia Church of God. The multi-use building will serve as a church sanctuary and worship space, meeting hall and recreation center complete with a full-size basketball court. The twenty-seven thousand square foot building is complete with a standing seam metal roof and Structure Roc decorative metal panels that give the sophisticated look of stone while retaining the insulating properties of advanced panel systems. The advanced metal building design, construction and engineering of pre-engineered steel buildings lends itself to the creation of soaring, spiritually uplifting spaces with high ceilings and interiors visually unobstructed by columns or pillars as never before.
"The Winchester church project was undertaken in conjunction with Kohler Homes of Burke, Virginia," states Darin Skomo, project manager for the construction division of Universal Steel Buildings. "We met with management at Kohler and they came and toured the metal building factory where Olympia Steel Buildings are manufactured. They were very impressed by what they saw there, with the quality control and professional engineering and design, and decided they wanted to develop a working relationship with Olympia on future building projects. We're very excited to be working with a company like Kohler," concludes Skomo.
Founded in 1963, the Kohler architecture / builder firm makes it a top priority to actively promote sustainable building methods and architectural designs, and recognizes the sustainability of pre-engineered metal building construction and the versatility inherent in metal buildings design. Building technology as a whole has changed rapidly in the last decade. The innovative use of steel and concrete has allowed many churches such as Winchester Church of God to undertake church building projects that would have been impossible only a few short years ago and enabling church building projects to reach fruition in a matter of months, not decades.
Winchester Church of God is a Pentecostal Church, founded in 1981 by Dr. Darrell W. Waller and has grown from eighty members to over 1,700 members over the intervening years under the stewardship of Pastor Waller and his wife Pauline. They are so pleased with and proud of their new church building they are happy to personally offer tours of the newly completed Winchester Church of God.
About Olympia Steel Buildings
Olympia Steel Buildings® are supplied by Universal Steel Buildings Corp, an industry leader in pre-engineered steel buildings for over 40 years, and sole supplier of Olympia Steel Buildings to commercial, industrial, agricultural, residential, government, military and civilian agencies. Olympia Steel Buildings come with their outstanding weather-resistant PBR roof, or you can opt for their patented Zeus-Shield® standing seam metal roofing system.
GSA approved Olympia Steel Buildings set themselves apart by using better materials, better quality control, exceptional customer service and industry-leading warranties, including a 25-year rust through perforation warranty. Olympia pre-engineered steel buildings are precision engineered and expertly erected to give you a "tight" building that reduces air infiltration into the building saving on HVAC costs. They offer 12 energy efficient colors for metal buildings to reduce cooling costs and come with a 40-year warranty against chipping, cracking, peeling or blistering. Because of such key features, Olympia pre-engineered steel buildings can qualify under LEED Green Building guidelines.
For more information about Olympia Steel Buildings Canada, visit their website http://www.olympiasteelbuildings.ca or call 866-479-3292 for more information.
###