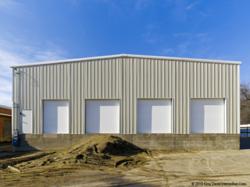 Everything went well down to the last detail, right on time and on schedule, and they ended up with a beautiful building
Pittsburgh, PA (PRWEB) November 05, 2011
Universal Steel Buildings construction division recently engineered, supplied and installed an Olympia Steel Buildings pre-engineered metal building to Fortune Plastic & Metal, a recycling company based in Dallas, Texas as part of a turnkey construction package. Prior to building installation, Universal Steel Buildings construction division provided the concrete work for perimeter footing, piers and reinforced concrete slab. The nine-thousand forty-five square foot building has three 14' x 14' overhead doors and one 10' x 10' overhead door installed for ease of access for the many truck deliveries of materials both going in and coming out of the recycling plant. Light sand was chosen as the color of both panels and trim on the attractive building to be put into service in Fortune's recycling business for sorting and managing their clients' scrap materials.
"It was great working with Fortune Plastic & Metal on this project," stated Jonathan Mass, Construction Department Design Estimator. "Everything went well down to the last detail, right on time and on schedule, and they ended up with a beautiful building."
Fortune Plastic & Metal services many Fortune 500 companies spanning the communications, electronics, utility and manufacturing sectors. A minority owned company, Fortune has played an important role in the reuse and recycling of metals and plastics for over twenty-five years. From a small scrap yard in Brooklyn New York, the company has grown to become one of the largest buyers and recyclers of metals, plastics and electronics in the industry. With twenty facilities throughout the United States and Mexico, the Fortune Group is recognized as a leader throughout North America, handling over 350 million lbs of material annually. Serving a wide variety of industries, the company caters to both the environmental and proprietary concerns of its customers and can assure the total destruction of their material in the recycling process. Fortune Plastic & Metal is dedicated to the preservation of the environment as well as the reputation of its customers throughout the world. They are committed to providing customers with the best service possible while maintaining environmentally responsible processes.
About Olympia Steel Buildings
Olympia Steel Buildings® are supplied by Universal Steel Buildings Corp, an industry leader in pre-engineered steel buildings for over 40 years, and sole supplier of Olympia Steel Buildings to commercial, industrial, agricultural, residential, government, military and civilian agencies. Olympia Steel Buildings come with their outstanding weather-resistant PBR roof, or you can opt for their patented Zeus-Shield® standing seam metal roofing system. GSA approved Olympia Steel Buildings set themselves apart by using better materials, better quality control, exceptional customer service and industry-leading warranties, including a 25-year rust through perforation warranty.
Olympia pre-engineered all steel metal buildings are precision engineered and expertly erected to give you a "tight" building that reduces air infiltration into the building saving on HVAC costs. They offer 12 energy efficient colors for metal buildings to reduce cooling costs and come with a 40-year warranty against chipping, cracking, peeling or blistering. Because of such key features, Olympia pre-engineered steel buildings can qualify under LEED Green Building guidelines. For more information about Olympia Steel Buildings, visit their website http://www.olympiabuildings.com or call 888-449-7756 for more information.
###