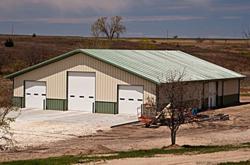 Quality and customer service – that's what Olympia Steel Buildings are all about
Pittsburgh, Pennsylvania (PRWEB) November 17, 2011
Universal Steel Buildings Corp will showcase their Olympia Steel Buildings pre-engineered buildings at Booth A417 at the 30th anniversary of the Greater Peoria Farm Show, Illinois' largest farm show. "As the first major show after harvest, both exhibitors and farms alike attend the show to make plans for the coming year," state Farm Show organizers. "Innovations are being unveiled by nearly every exhibitor, making this a 'don't miss' event."
Admission is free to the agricultural public as the Greater Peoria Farm Show celebrates its 30th year in Peoria, Illinois. The Farm Show opens November 29 at The Peoria Civic Center and runs through December 1, showcasing more than 300 companies exhibiting over 1,000 products and services in more than 950 booths. The Peoria Civic Center is the largest exhibition facility in downstate Illinois with the 110,000 square foot Exhibit Hall the size of two footballs fields. Exhibitors include manufacturers, distributers, jobbers and dealers from 14 states and Canada.
This is Olympia's first year at the Greater Peoria Farm Show, where company reps will man an eight-foot interactive pop-up kiosk where visitors will see detailed information on the Olympia Steel Buildings quality metal building product line, showing ongoing videos of their best farm buildings, residential buildings, recreational buildings, industrial buildings, metal building construction, advantages for ag construction and more. The vibrant in-house created HD video includes approximately twenty customer testimonials describing each building in the customer's own words, how easily it went up, how it withstands the weather and what is it being used for. Building uses run the gamut from garages, to barns and crop storage, to machine sheds and workshops, office buildings, strip malls and even churches.
Olympia Steel Buildings is interested in getting their brand recognized throughout the Midwest and attendance at the major trade shows helps to accomplish this goal. "We're very excited about meeting our Midwest customers and getting the word out about Olympia Steel Buildings, and state fairs are a great place to do just that," states Arnold Davis, company president. "Once they see what Olympia has to offer, they can't help but be impressed by the quality of our buildings and the fact that we care about the customer. Quality and customer service – that's what Olympia Steel Buildings are all about."
The Peoria Farm Show has earned a reputation as one of the finest indoor shows in the United States and the largest indoor farm show in the state of Illinois. Attendees will see everything new in agriculture from large implements to farm business management software to the use of environmentally friendly and cost-effective pre-engineered steel buildings for agricultural building construction. Show hours are 9:00 - 4:00 PM each day of the show.
About Olympia Steel Buildings
Olympia Steel Buildings are supplied by Universal Steel Buildings Corp, an industry leader in pre-engineered steel buildings for over 40 years, and sole supplier of Olympia Steel Buildings® to commercial, industrial, agricultural, residential, government, military and civilian agencies. Olympia Steel Buildings come with their outstanding weather-resistant PBR roof, or you can opt for their patented Zeus-Shield® standing seam metal roofing system.
GSA approved Olympia Steel Buildings set themselves apart by using better materials, better quality control, exceptional customer service and industry-leading warranties, including a 25-year rust through perforation warranty. Olympia pre-engineered steel buildings are precision engineered and expertly erected to give you a "tight" building that reduces air infiltration into the building saving on HVAC costs.
Olympia Steel Buildings offer 12 energy efficient colors for metal buildings to reduce cooling costs and come with a 40-year warranty against chipping, cracking, peeling or blistering. Because of such key features, Olympia pre-engineered steel buildings can qualify under LEED Green Building guidelines. For more information about Olympia Steel Buildings, visit their website http://www.olympiabuildings.com or call 888-449-7756 for more information.
###