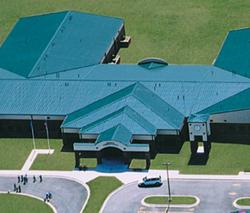 "Contractors appreciate the functionality of the Zeus-Shield standing seam metal roof ... Whether you go for the Trapezoidal or Architectural profile, this roof adds beauty and value to any building construction
Pittsburgh, Pennsylvania (PRWEB) December 02, 2011
The Zeus-Shield "Architectural" and "Trapezoidal" standing seam metal roof system now offered by Universal Steel Buildings are adaptable both for use on new construction or as a replacement roof for existing buildings where weather resistance and architectural appearance are the most important design considerations. Although designed primarily for use with pre-engineered steel buildings and metal building construction, the Zeus-Shield standing seam metal roof is also appropriate for more conventional building applications.
"The Zeus-Shield standing seam metal roof has many advantages over most other roof systems", states company president, Arnold Davis. "We're pleased to now offer the Zeus-Shield standing seam metal roof system. It offers excellent weather resistance, a long life expectancy, and is practically maintenance free."
The Zeus-Shield standing seam metal roof is available in two distinct panel profiles: the classic "Trapezoidal" profile and the refined "Architectural" profile. Both the "Trapezoidal" and the "Architectural" standing seam metal roof profiles consist of metal panels joined together by the Zeus-Shield patented factory-formed interlocking seam, and are easily assembled and seamed in the field.
The aesthetic appeal of a roof whether seen from the street or from above, for both steep roofs and even low pitch roofs is important. The Zeus-Shield® "Architectural" standing steam metal roof system for pre-engineered steel buildings and metal buildings systems has been designed with aesthetics in mind for use in architectural or functional applications where both appearance and weather resistance of the roof are primary concerns.
The Zeus-Shield classic "Trapezoidal" standing seam metal roof system for pre-engineered steel buildings is a heavy-duty roof system intended for use where water resistance, expansion/contraction and insulation efficiency are of prime importance. This metal roof system is designed primarily for industrial and commercial roofs with single or double-sloped rectangular areas. The "Trapezoidal" roof system can be used for more complex roof configurations as well.
The standing seam metal roof panels are Galvalume® coated steel, the strongest, most durable and maintenance free of the practical roof materials, with proven weather resistance. The roof panels are available in nine Trinar® Cool Chemistry® Series color coatings with a 35-year limited warranty, providing long-lasting weather protection. These remarkable color coatings contain ceramic pigments that reflect infrared energy while absorbing visible light so that the roof retains its richness of color while staying much cooler. The steel roof panels are impervious to moisture and resist falling objects and roof traffic better than other commonly used roofing materials. The steel roof panels also resist live load and wind uplift without the complexity and cost of additional sub-framing that most other roofing systems would require.
"Contractors appreciate the functionality of the Zeus-Shield standing seam metal roof," states Davis. "Whether you go for the Trapezoidal or Architectural profile, this roof adds beauty and value to any building construction."
About Universal Steel Buildings
Universal Steel Buildings Corp, an industry leader in pre-engineered steel buildings for over 40 years is sole supplier of Olympia Steel Buildings® to commercial, industrial, agricultural, residential, government, military and civilian agencies.
Olympia Steel Buildings come with their outstanding weather-resistant PBR roof, or you can opt for their patented Zeus-Shield® standing seam metal roofing system. GSA approved Olympia Steel Buildings set themselves apart by using better materials, better quality control, exceptional customer service and industry-leading warranties, including a 25-year rust through perforation warranty.
Olympia pre-engineered steel buildings are precision engineered and expertly erected to give you a "tight" building that reduces air infiltration into the building saving on HVAC costs. They offer 12 energy efficient colors for metal buildings and standing seam metal roofs to reduce cooling costs and come with a 40-year warranty against chipping, cracking, peeling or blistering. Because of such key features, Olympia pre-engineered steel buildings can qualify under LEED Green Building guidelines.
For more information about Olympia Steel Buildings, visit their website http://www.OlympiaBuildings.com or call 888-449-7756 for more information.
###