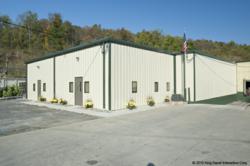 The quality of the buildings is unbeatable
Pittsburgh, Pennsylvania (PRWEB) January 31, 2012
Rutherford Construction Corp. recently announced the supply and construction of two pre-engineered Olympia Steel Buildings metal buildings to DDM Properties for Jo's Globe Distributing CO, a retail beer distributorship in Morgantown, West Virginia. The project includes the supply and construction of a fifteen hundred square foot steel building attached to a new five-thousand six-hundred twenty-five square foot building also supplied and constructed by Rutherford Construction Corp.
The attractive new building has "lightstone" exterior wall sheeting with "fern green" trim, gutters and downspouts. The innovative paint used by Olympia Steel Buildings comes with a forty-year warranty, making for a maintenance-free exterior that never needs painting. This high-technology paint coating is a "cool coating" designed to act as a thermal barrier to reflect the sun's rays, keeping the insides of metal buildings up to twenty percent cooler and reducing HVAC costs year-round.
"The building is great," stated Mike Marrara of DDM Properties. "The building has everything we need – office space, cool warehousing for the beer we distribute, easy-access truck bays for loading and unloading the product and a showroom where customers can choose from the many different types of beer and wine that we have on display." Jo's Globe Distributing Company is committed to providing outstanding customer service, selection and value. They pride themselves on being a company where customer service means fast, quality service and a friendly attitude. The retail beer distributor's products include wheat beer, non-alcoholic beer, American and imported beers, wine and other quality products.
"Olympia Steel Buildings can be used for just about anything you need," explained Jonathan Mass, Rutherford Construction Corp. design estimator. "The quality of the buildings is unbeatable and we're proud to be supplying them and putting them up. It gives a great sense of satisfaction when you can look at a great looking building and say, we did this, we supplied and put this building up."
About Olympia Steel Buildings
Olympia Steel Buildings® is an industry leader in pre-engineered steel buildings for over 40 years. Olympia Steel Buildings are used for commercial, industrial, agricultural, residential, government, military and civilian agencies.
Olympia Steel Buildings come with their outstanding weather-resistant PBR roof, or you can opt for their patented Zeus-Shield® standing seam metal roofing system. GSA approved Olympia Steel Buildings set themselves apart by using better materials, better quality control, exceptional customer service and industry-leading warranties, including a 25-year rust through perforation warranty.
###