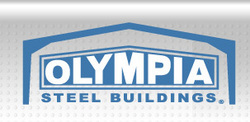 It is estimated that industrial production growth in Russia will grow 6% to 7% in 2010, including mining and manufacturing, and the growth in manufacturing may even top 11%
Mc Kees Rocks, PA (Vocus) November 13, 2010
Olympia Steel Buildings has opened negotiations for the establishment of a new metal buildings
manufacturing plant for the manufacture of pre-engineered steel buildings in the Russian Federation. Recognizing the need for buildings that can be put up quickly and economically in order to keep up with the demands of rapid growth in agricultural and industrial regions, the new plant is to manufacture easy to assembly bolt-together all steel metal buildings for the industrial, commercial, and farm sectors. Negotiations are to commence in December of this year.
It is worthy of note that the economy of the Russian Federation is the twelfth largest economy in the world. Russia has an abundance of natural gas, oil, coal, and precious metals. The Russian Federation is rich in agriculture and is now the world's third largest destination for the outsourcing of software development. "It is estimated that industrial production growth in Russia will grow 6% to 7% in 2010, including mining and manufacturing, and the growth in manufacturing may even top 11%," notes Arnold Davis, President of Olympia Steel Buildings. "Opening a plant in the Russian Federation would allow us to expand upon that growth. The natural resources are there, the people are there, the technical work force is there. It makes sense to put the plant there."
The proposed plant will manufacture precision-engineered steel buildings that meet the European Building Code as well as the German DIN-Norm. All component parts will be precision manufactured to exceed industry standards. In addition, the all steel metal buildings for proposed manufacture are ecologically friendly and highly sustainable products.
"Our mission is to continue to produce the highest quality steel buildings in the world by the most efficient manufacturing and operating processes available. We believe we can further advance that goal with the opening of a new metal building manufacturing plant in the Russian Federation," asserts Davis.
About Olympia Steel Buildings
Olympia Steel Buildings are supplied by Universal Steel Buildings Corp, an industry leader in pre-engineered steel buildings for over 40 years, and sole supplier of Olympia Steel Buildings® to commercial, industrial, agricultural, residential, government, military and civilian agencies. Olympia Steel Buildings come with their outstanding weather-resistant PBR roof, or you can opt for their patented Zeus-Shield® standing seam metal roofing system. GSA approved Olympia Steel Buildings set themselves apart by using better materials, better quality control, exceptional customer service and industry-leading warranties, including a 25-year rust through perforation warranty. Olympia pre-engineered steel buildings are precision engineered and expertly erected to give you a "tight" building that reduces air infiltration into the building saving on HVAC costs. They offer 12 energy efficient colors for metal buildings to reduce cooling costs and come with a 40-year warranty against chipping, cracking, peeling or blistering. Because of such key features, Olympia pre-engineered steel buildings can qualify under LEED Green Building guidelines. For more information about Olympia Steel Buildings, visit their website http://www.olympiabuildings.com or call 888-449-7756 for more information.
###