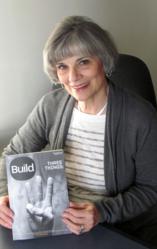 Many beginning teams struggle with wanting team-based results without constructing a team-based structure and foundation.
Bennington, VT (PRWEB) January 18, 2012
Deborah Mackin, founder and principal Performance Strategy Consultant at New Directions Consulting, was a featured author in the premier issue of BUILD Magazine from the creators of Inc. Magazine. The article entitled, "Six More Reasons for Dysfunction," works off Patrick Lencioni's famous "The Five Dysfunctions of a Team" by highlighting six other areas of typical team dysfunction.
Mackin, considered an international authority on teaming after her best-selling Team-Building series (The Team-Building Tool Kit, 1994; Keeping the Team Going, 1996; & The Team-Building Tool Kit 2, 2007) - all published by AMACOM, has worked with teams over the past 27 years. Implementing teams in organizations such as Delta Faucet, Coca-Cola, Alcoa, Sanofi Vaccine Division, and Knolls Atomic Power Laboratory, Mackin comes with a wealth of in-the-field experience, as well as a practical and pragmatic approach to implementing team-based initiatives within businesses. As a follow-up to her successful book series, Mackin created NDCBlogger, where she blogs weekly on teaming, organizational efficiency, implementing change initiatives and building management skills in the leaders of tomorrow.
"Six More Reasons for Team Dysfunctions" picks up where Five Dysfunctions left off. Included in Mackin's list of other dysfunctions are: wanting team–based results without constructing a team-based structure, not building a culture that encourages collaboration and cooperation, and neglecting the talent pool that resides in a team. To read the full article visit: http://www.newdirectionsconsulting.com/pdfs/Build%20Magazine%20Article_New%20Directions.pdf
Build Magazine was started on the idea that Inc. Magazine has been helping start-up companies for over 30 years and was looking for a new way to help more established companies reach another level of success and maturity. The Build Network, the online portion of BUILD Magazine, is a new source of insight and connection dedicated to CEOs and executive teams of midsized businesses— what they call "the economy's hot core." Members of the Build community can connect with the world's top management thinkers and leading middle market CEOs either through their website or their quarterly magazine. The premier issue includes other articles focusing on teaming including The Seven Habits of Highly Ineffective Teams, The Top Three CEO Blind Spots, The Death-By-Meetings Quiz, and How To Create a Pipeline of Leaders Your Business Needs. For more information on The Build Network visit http://www.thebuildnetwork.com.
New Directions, Inc. is an innovative training and employee development firm located in southern Vermont since 1984. New Directions' Performance Strategy Consultants specialize in helping organizations get the most out of their people by raising the bar and inspiring potential. New Directions partners with organizations to build a people-centered, high-engagement workplace by providing services in facilitation management, employee training and development, staff and customer surveying, leadership and executive coaching, and organizational strategy and assessment. Some of their recent clients include Coca-Cola, Sanofi Pasteur, Alcoa, Crane Currency, and Catholic Charities. http://www.NewDirectionsConsulting.com.
###