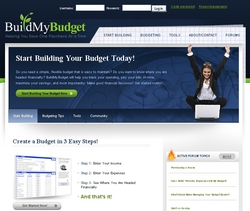 Altamonte Springs, FL (PRWEB) January 29, 2009
In a market saturated with budgeting software programs that can be overwhelming, expensive, confusing and time-consuming, BuildMyBudget.com uses a dollar-for-dollar approach to help users forecast where they are headed financially so they can make better financial decisions and reach financial goals.
Once a user has created a budget, a 12-month forecast shows paycheck-by-paycheck where they are headed financially. A user can easily see if they are in a downward financial spiral and when they have extra cash to save or invest. And because budgets can be stored on a phone, pc, flash drive or SD card, users have instant access to their financial forecast, making it easy to see projected account balances throughout the 12-month period.
For less than $15, BuildMyBudget.com provides an inexpensive budgeting solution for users looking to avoid spending time and money on unnecessary personal finance software. And unlike other software programs, BuildMyBudget.com does not ask for any personal account information.
Building a budget takes less than fifteen minutes and produces a forecast which illuminates any additional savings opportunities or potential cash-flow problems. A key benefit is the flexibility of the system, which enables users to update their budget quickly and easily without having to spend hours entering and categorizing transactions.
BuildMyBudget.com long-time user, Iliana, says, "I have been using the BMB solution for the last 3 years. When it was first introduced to us, my husband and I were in massive debt… This tool has allowed us to not only pay off huge amounts of debt but helped us to see where we could save money... Plus, if we want to plan a vacation or buy something big we can actually budget it out correctly rather than just charging it to a credit card."
BuildMyBudget.com also offers free budgeting tips, financial calculators, community forums and other resources to help users build a strong financial foundation and make better financial decisions.
About Stress Free Plan, LLC:
Stress Free Plan, LLC is managed by Chris Fitzgerald, founder and creator of BuildMyBudget.com. Chris holds a BS degree in Finance from Florida State University and is currently attending the Rollins Crummer Graduate School of business for his Masters in Business Administration. Chris blogs regularly on the website about financial lessons he has learned, why he created BuildMyBudget.com and other budgeting related topics.
For additional information about BuildMyBudget.com, visit http://www.buildmybudget.com.
###