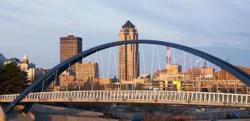 De Moines is a great city for businesses and we are pleased to air in it.
Coral Springs, FL (PRWEB) January 31, 2013
Business Day TV, the award-winning program highlighting stellar businesses, industry innovators and leaders, is pleased to announce air dates for January and February for Des Moines, Iowa and vicinity. The capital city is one many people have heard of because the Presidential Iowa caucuses are held there every four years. The city continually ranks high on national lists for its affordability for small businesses and residents. The informative program will air on FOX KDSM-TV.
Des Moines has hundreds of miles of trails and is perfect for walking, biking, jogging and cross-country skiing. Visitors in the area can take advantage of the many festivals and arts activities the city has to offer. Forbes Magazine ranked it the Best Place for Business in 2010 and MSNBC named it one of the best mid-size cities for quality of life. Des Moines offers business costs below the national average and household incomes are expected to rise during the year. All this makes the capital of Iowa a great place to live, work, play and retire. Business Day TV show, hosted by one of the nation's most popular sports celebrities, is excited to air in Des Moines.
Terry Bradshaw, the former Pittsburgh Steelers quarterback, is well-known for his outgoing and humorous personality. He was one of the influential players that helped lead the team to four Super Bowl victories and many national championships. His leadership and skill on the field earned Bradshaw an induction into the Hall of Fame. He retired in 1984 and has worked steadily in the sport as a commentator, analyst and currently as a co-host for various national television networks.
The producers of the show travel around the country to find the best and most compelling stories of success and ingenuity to share with the viewer. Business Day TV covers a diverse range of topics from the health, technology, financial and environmental industries. It films on location and is broadcast on many regional and national cable television networks. More information is available at businessdaytv.com or on Facebook and Twitter.