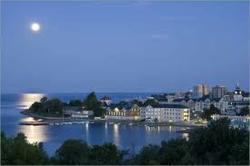 It is great to air in Ontario and especially in these beautiful cities.
Coral Springs, FL (PRWEB) January 29, 2013
The informative television program Business Day with Terry Bradshaw announces January and February air dates for Kingston and Peterborough, Ontario, Canada. It encompasses a wide broadcasting net reaching from the southern United States to northern neighbor Canada. The show hosted by one of America's favorite sports celebrities introduces the viewer to emerging businesses, experts in their fields and niche industries. The show airs in Kingston on CKWS-TV CBC Affiliate and in Peterborough on CHEX-TV CBC Affiliate.
Kingston is not a far distance from any city in upstate New York. It is known as one of the most romantic places in Canada and one of its best kept secrets. Its beautiful lakefront and four seasons offer anyone who visits fun, exploration and relaxation. Peterborough is also close to the U.S. and is called a cottage community or what Americans call a bedroom community. The city is known for its steady and reliable workforce. It is the region's business, education, culture and healthcare center. It has a relaxed and laid back attitude with a large arts community which makes it a great place to start a band of other artistic endeavor. Business Day TV is excited to air in both Kingston and Peterborough.
Terry Bradshaw is the host and narrator of the program. The former professional football quarterback is known as one of the greatest players in the National Football League. He helped lead the Pittsburgh Steelers to four Super Bowl wins and many other national championships. His skill and leadership on the grid iron earned Bradshaw an induction into the Hall of Fame. His love for the sport is strong and he has worked in it since retiring in the mid 1980's. Currently, Bradshaw is a co-host of an Emmy-winning pregame show, a best-selling author and favorite inspirational speaker.
The program covers a diverse range of topics from technology to the environment. The Business Day TV show films on location throughout North America and is broadcast on many national and regional cable television networks. More information about it and its host is available at http://www.businessdaytv.com, Facebook, YouTube and Twitter.