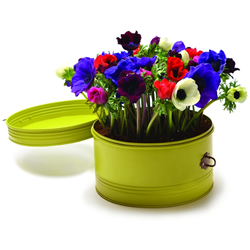 ... bulb gardens are a perennial reminder our love and affection for Mom.
Salt Lake City, UT (PRWEB) April 18, 2012
Excitement and buzz are building around the selection of Mother's Day gifts available this year from premier online gift retailer Hawthorne & Wren. The online gift retailer recently captured two of the top 10 choices for Mother's Day Gifts highlighted by Family Circle. Sweet treats are not the only hot trend this year for Mother's Day.
Bulb gardens have emerged as one of the hottest trends for Mother's Day 2012. Hawthorne & Wren is featuring three beautiful bulb gardens this year as part of their Mother's day gifts. The bulbs come ready to bloom this year and can be transplanted outdoors to bloom each year. "Our bulb gardens serve as a perennial reminder to mothers of the love and affection we have for them. Bulb gardens are a unique way to show our appreciation," commented Candace Frioux, Hawthorn & Wren's creative director.
Bulb gardens come shipped in reusable baskets and containers that can be enjoyed after the bulbs have been transplanted for the next season. Bulb gardens from Hawthorne & Wren are priced to be competitive with traditional flower arrangements making them accessible to everyone.
Hyacinth Bulb Garden
Like a mother's love, hyacinths hold the magical quality to restore and inspire the soul. Premium hyacinth bulbs from Holland will bloom in 6-8 weeks. These bulbs arrive in a reusable willow basket.
Anemones Bulb Garden
Tender, verdant shoots seek the warmth of the sun; delicate petals unfurl.  As this colorful collection of anemones bloom they serve as a reminder of life's fragility as well as the little things that deliver life's intense moments of sweetness. This bulb garden contains ten bulbs that produce up to five flowers each. This bulb garden arrives in a beautiful green metal hatbox. Anemones grow and bloom in 4-6 weeks.
Crocus Bulb Garden
The crocus is celebrated as one of the first vibrant flowers to herald in the spring, bringing life back into the slumbering natural world.  Premium crocus bulbs from Holland will bloom in 4-6 weeks. These bulbs arrive in a reusable food safe lidded ceramic.
For children who prefer to pamper Mom with confections, the H&W Mother's Day gift lineup offers a variety of haute gifts for Mother's day and confections that are certain to please any mother.
About Hawthorne & Wren
Hawthorne & Wren offers a full line of haute gifts for year round celebrations. Hawthorne & Wren specializes in providing unique and meaningful gifts that inspire all to give "gifts with meaning." The H&W collection of over 200 gifts are carefully selected and offered with a well-crafted meaning of what each gift represents. For more information visit http://hawthorneandwren.com, or call 801-272-8003.