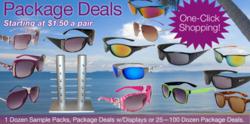 We understand different people have different needs, so we offer packages of 1 dozen all the way up to 100 Dozen.
Salem, OR (PRWEB) February 24, 2012
Buying bulk sunglasses in wholesale and selling at retail stores is a proven way to generate a nice profit. CTS wholesale has now introduced several new packs for the different level of retailers, both newbies to try out the market and the established retailers to order larger quantities for higher margins.
"We understand different people have different needs, so we offer packages of 1 dozen all the way up to 100 Dozen," reported Kirk Bachelder, owner of CTS Wholesale Sunglasses. "People can setup a small business with our starter packages having a collection of designs, both for men and women as well as attractive display stands and then buy the bulk packages for much higher profits," he added.
Replica sunglasses are big business for retail shops. While everyone wants to wear the attractive sunglasses from leading brands, the prohibitive costs for these turn them off. Replicas offer designer sunglasses with similar designs at a massively lower price point making them affordable. These are pretty sturdy pieces, high on fashion and incorporate 100% UV protection.
CTS is a leading online sunglass dealer directly importing the goods from China which enables it to offer very attractive rates for bulk purchasers. The owner offers selling advice and market reports at his blog at http://blog.CTSwholesaleSunglasses.com. This is very useful for people looking to try out the sunglass retail as a new business venture. While they can initially sell the wares at fairs, flea markets and small shops, they can go for full fledged retail shops in the high street or malls after they have garnered good experience of the trade.
"While we have designs inspired from leading brand companies, we also offer a large selection from our fast-growing brands like DE, Xsportz and Gster. These packages include assorted designs for both men and women and have a selection of lens colors also. There is something for everyone and offer the retail customers a good variety to choose from," highlighted Kirk.
CTS has an online portal offering wholesale sunglasses, party hats and lighters thereby operating as a one stop shop with a large selection of products that can be offered at a retail outlet. The accessories section enables the shopkeepers to increase the per-order value by offering additional items along with every item purchased. The website is very user-friendly allowing 24x7 ordering, toll-free numbers and a live chat for clarifying any doubts. The company offers same day shipping on almost the entire range due to the high number of in-stock items.
Replica sunglasses business is growing at a fast pace due to the economic slowdown and people who have recently lost their jobs get an easy and quick option to start a small business and earn some nice money on the side.
About CTS Wholesale LLC:
CTS Wholesale Sunglasses offers bulk sunglasses with assorted designs for men, women and kids, ranging from a dozen to 100 dozens. Several packages include sunglass display stands while all packs include a display box for free. Visit http://www.CTSWholesaleSunglasses.com to learn more and get started.
Contact:
Kirk Bachelder
CTS Wholesale LLC
503.364.3486
###