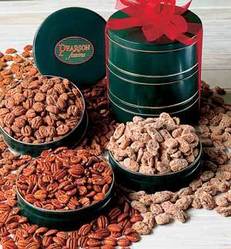 Our business is based on family land and founded on principles of effort and integrity handed down through four generations
Fort Valley, GA (PRWEB) October 20, 2009
With more than 100-years of growing experience, the Pearson family is now taking orders for their 2009 pecan crop. On land originally owned and managed by their great-great-grandparents, the Pearson Farm grows more than ten varieties of pecans for sale, including the most popular Elliot, Schley and Desirable. Although the first harvest will not occur until early in November, Pearson Farm employees are now accepting orders. Whether for yourself, your clients, your friends or family, packages of shelled pecan halves and unshelled pecans are perfect pecan gifts for the upcoming holidays and anytime. All Pearson Southern Pecans, pies and cakes are baked in their kitchen in very small batches with the freshest of ingredients using recipes passed down from generations of pecan growers.
In addition to choosing fresh pecans for snacking and baking for the holiday season, Pearson Farm offers a large assortment of great pecan gift tins and boxes prepared with combination of: Signature Toasted & Sea Salted Pecans, Savory Seasoned Pecans, Cinnamon Roasted Pecans, Southern Praline Pecans, Natural Pecan Halves, Maple Pecan Clusters, Chocolate covered pecans and clusters, Homemade Southern Custard Pecan Pie and Chocolate Pecan Pie.
Al Pearson, President and CEO, is proud to be a fifth generation farmer. "Our business is based on family land and founded on principles of effort and integrity handed down through four generations," says Al. "The quality we strive to achieve in our fruits and nuts are freshness, good taste and integrity. We hope you enjoy the results of our efforts."
Orders may be made by calling 888-GAFRESH (423-7374) or on-line at Pecan Gift or Bulk Pecans
###