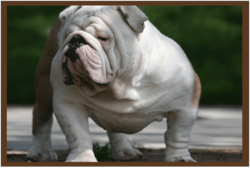 We are very proud of our bulldog pups and are excited to present our new litter" says BigBulldogs.com President, Todd Howard
Vista, California (PRWEB) April 15, 2013
As one of the well-known bulldog breeders in California, Todd Howard of BigBulldogs.com introduces a new litter of puppies for those who are looking for pure breed, well-trained, and healthy English or French bulldogs.
For over 10 years, Todd Howard of Big Bulldogs has been known as one of the top breeders of English and French bulldogs in Vista, California and this month, Howard added a new litter of pure-bred bulldog puppies at their kennel "Everyone at Big Bulldogs is proud to be one of the top providers of pure breed English bulldogs and French bulldogs. We are very proud of our pups and are excited to present our new litter for sale," says BigBulldogs.com President, Todd Howard. "We have English and French bulldogs for sale from our facility in Vista, California. I am thrilled to announce and present our newest litters of bulldog puppies. They are all ready and excited to be with their new family," continues Howard.
Howard also stated that just like all of the French and English bulldogs that they have raised and sold, these new bulldog puppies for sale are Vet checked and up to date on all shots and de-worming schedules. Howard also said that every pup is raised in a loving family environment and begin socialization at birth. "Some people, especially those who don't know a lot about bulldogs, will get scared the minute they see a bulldog. But for use here at BigBulldogs.com, we start training our pups on how to properly socialize with everyone at birth. By doing this, the client can be guaranteed that the pup that they will get is already well-trained and knows how to blend well with people." Aside from socialization training and making sure that each bulldog puppies are healthy, Big Bulldogs also offers a Lifetime Guarantee, where they are willing to take back the Bulldog babies should there be any circumstances in the owner's life. "Everyone, including our Bulldog babies, deserves to have someone that will take care of them. And we, here, at Big Bulldogs will be more than willing to take them back for any reason in the event your life changes, or if you can no longer care for them," continues Howard. "Just give us a call and we will discuss necessary details on how you can give them back to us."
"But if you are looking for English or French bulldog puppies we are glad to offer you some with our new litters of pups. Big Bulldogs still offers a 2 Year Health Guarantee for each puppy; aside from everything that was previously mentioned, of course," finishes Howard. Big Bulldogs is located in Vista, California. You can call them at (760) 580-6084 or simply log on to their website http://bigbulldogs.com/ for more information or to check out some of the puppies available today.
--
About BigBulldogs.com:
Todd Howard BigBulldogs is a well-known bulldog breeder located in Southern California that sells English bulldogs and French bulldog puppies starting at $1900. They also provide English bulldog stud services and French bulldog stud services. Visit BigBulldogs.com or contact Todd Howard at (760) 580-6084 for inquiries and other information.