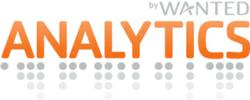 "The real-time business intelligence accessed via the WANTED Analytics platform is unique in the talent marketplace and will offer tremendous strategic and business process value for our customers."
New York, NY (PRWEB) July 26, 2011
WANTED Technologies (TSX-V: WAN), the leading source of real-time business intelligence for the talent marketplace, today announced the integration of WANTED Analytics™ with Bullhorn's customer relationship management system. Analytics offers Bullhorn customers the ability to source new opportunities within their existing customer base or prospect list with the click of a button.
"We're pleased to be able to offer Bullhorn users integrated access to the real-time business intelligence found in WANTED Analytics," said Bruce Murray, President and CEO of WANTED Technologies. "Bullhorn customers can leverage the integration to more quickly and efficiently source new opportunities by accessing real-time Hiring Demand intelligence in one online dashboard."
The partnership between WANTED Technologies and Bullhorn is part of Bullhorn's recent launch of the Bullhorn Marketplace, the first cloud-based staffing and recruiting application and services marketplace available to the industry. The Marketplace provides best-of-breed solutions that are tightly integrated with Bullhorn and gives staffing and recruiting firms the ability to leverage appropriate technology for their unique business needs.
"I'm happy to welcome WANTED as a Bullhorn Alliance Partner," said David Beaver, Director of Alliances & Business Development of Bullhorn. "The real-time business intelligence accessed via the WANTED Analytics platform is unique in the talent marketplace and will offer tremendous strategic and business process value for our customers."
The WANTED Analytics™ platform allows clients to access current and historical human capital information to identify employers in need of recruiting services. Analytics™ is a "software-as-a-service" solution which offers clients access to large quantities of data and analysis in a highly efficient manner from a centralized facility. At the core of WANTED's services is a data warehouse containing more than 600 million online job postings assembled since June 2005, creating one of the largest and most dynamic sets of employment market information ever assembled.
"Bullhorn offers market-leading tools to the recruiting and staffing communities, and becoming a Bullhorn Alliance Partner offers WANTED a great opportunity to expand the market for WANTED Analytics," Murray added.
About WANTED Analytics™
WANTED Analytics™ helps recruiting organizations make better decisions faster with real-time business intelligence on jobs, employers, and talent. Analytics brings together, for the first time, years of hiring demand and talent supply data to create a true talent intelligence platform for hard-to-fill positions.
Clients in the staffing, HR, RPO, media, and government sectors use WANTED Analytics™ to find sales leads, analyze employment trends, gather competitive intelligence, forecast economic conditions, and source hard-to-fill positions.
About WANTED Technologies Corporation
WANTED Technologies (TSX-V:WAN) provides real-time business intelligence for the talent marketplace. Founded in 1999, the company's headquarters are in Quebec City, Canada, and it maintains a US-based subsidiary with primary offices in New York City. WANTED began collecting detailed Hiring Demand data in June 2005, and currently maintains a database of more than 600 million unique job listings. For more information or to sample WANTED's services, visit http://www.wantedanalytics.com.
WANTED is also the exclusive data provider for The Conference Board's Help-Wanted OnLine Data Series™, the monthly economic indicator of Hiring Demand in the United States.
The TSX Venture Exchange does not accept responsibility for the adequacy or accuracy of this release. Any statement that appears prospective shall not be interpreted as such.
About Bullhorn
Bullhorn® is the global leader in online staffing and recruiting agency software, providing the only fully integrated applicant tracking and customer relationship management system paired with social recruiting and business development tools. Delivered through Software as a Service (SaaS), Bullhorn is backed by the most compressive roster of cloud-based partner solutions and continues to meet the evolving business and recruitment needs of thousands of firms worldwide, including some of the largest global recruitment agencies.
###