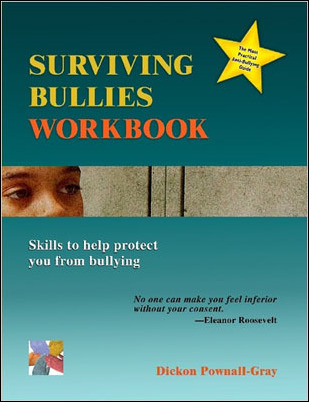 I was a 12-year-old boy lying on the ground being kicked by faceless assailants
Weston, CT (PRWEB) August 18, 2006
As children prepare to begin another school year, some of them may have a reason to be anxious. Bullying is a common theme in books, films and, most recently, video games. Little serious attention, however, has been given to helping their victims. Author Dickon Pownall-Gray knows that territory all too well.
The 51-year-old London native was abused by bullies during his youth, and now wants to help children in a similar predicament with the "Surviving Bullies Workbook: Skills to Help Protect You from Bullying" helps educators and children understand bullies], published on Lulu.com, a self-publishing site that is host to an increasing number of educational books on niche topics.
"People ranging from teenagers to CEOs care about this topic greatly," says Pownall-Gray, a former CEO himself who now lives in Weston, Connecticut. "This goes unrealized because being bullied is inherently shameful and humiliating."
Bullying itself has become a hot topic in education in recent years. Warner Brothers recently released an animated film, "The Ant Bully." This week computer game company Rockstar, most famous for the brutal "Grand Theft Auto" series, released a new game called "Bully" centered around the struggle of a 15-year old schoolboy named Jimmy who tries to defeat the schoolyard bullies.
It's a struggle Pownall-Gray lived through in real life. A successful businessman, he had banished his own encounters with bullies to the back of his mind until about four years ago, when an episode of "The Sopranos," where a truck driver was hijacked, dragged to the ground and kicked unconsciously, sparked a nightmare.
"I was a 12-year-old boy lying on the ground being kicked by faceless assailants," Pownall-Gray recalls. "It was the beginning of a painful psychological journey to resolve the brutal bullying of my childhood."
The workbook aims to show youths how to protect themselves when they are the targets of bullies by developing their own social networks. It's also designed as a support tool for school psychologists and parents.
"Mothers are correctly anxious about when their child moves from elementary school to middle school and from middle school to high school," says Pownall-Gray, who notes seventh grade is often the toughest when it comes to being bullied.
For Pownall-Gray, writing the workbook was a form of free psychotherapy. The same goes for the book's illustrator, Shan Shan Jiang, who was badly bullied in the schools of East Haven, Connecticut, after coming from China at age 9.
Jiang was an easy target because she initially spoke poor English and stood out in a tough inner-city school. But her perseverance is emblematic of the book's message: she was the valedictorian of her high-school glass and graduated from Yale University.
"Although we both have good senses of humor, it was actually a rather scary topic," says Pownall-Gray, a part-time investor who founded the Surviving Bullies Charity (SBC). "I would rather face a room full of hostile venture capitalists than the gangs of my youth."
The author, an accomplished speaker, is available to media as an expert commentator on the phenomenon of bullies and bullying.
Dickon Pownall-Gray graduated from University of Birmingham in the U.K. He holds a Master's degree from University of California, Berkeley and an M.B.A from the London Business School. Contact: dickonpg@optonline.net, 203-247-1442
Lulu.com the world's fastest-growing source of print-on-demand books, lets you publish your own books, ebooks, calendars, images, music and videos at no advance cost.
# # #