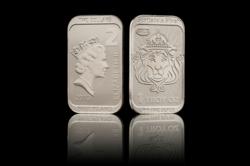 Scottsdale, AZ (PRWEB) May 21, 2013
Scottsdale Mint announced today the much anticipated One (1) Troy ounce Scottsdale Niue CoinBar featuring Mint Guard technology. It is the first of several forthcoming bullion products designed to elevate the standard in security for consumer bullion.
Most widely known for producing the incomparable Scottsdale Silver Stackers, along with an array of other popular bullion items, Scottsdale Mint has recently entered into an agreement with the Government of Niue Island to produce a legal tender, 1 Troy ounce .999+ fine silver CoinBar.
As legal tender of Niue Island, the Scottsdale CoinBar has a nominal face value of $2 NZD and is a perfect fusion of world-class minting, contemporary design, and new technology.
All new Mint Guard technology allows a special latent image to be stamped into each bar – embedded security that can be validated without the use of a magnifying glass or any other decoding device. The bidirectional latent image text can be seen by viewing the bar in profile; both '2013' and 'VALID' appear depending upon the viewing angle.
This particular mintage will be limited to 350,000. The obverse features the timeless Maklouf effigy of Queen Elizabeth II. The reverse is struck with the iconic Scottsdale Lion backed by a radiating sun.
The ScottsdaleCoinBar is available internationally through Scottsdale Mint's Authorized Distributor Partnership network and in the United States at http://www.scottsdalesilver.com
The CoinBar or "Silber Munzbarren", which was previewed for the European market in early February at the annual World Money Fair in Berlin, is Scottsdale Mint's first product release since their acquisition of Materion Corporation's investment bar division late last year.
About Scottsdale Mint
Scottsdale Mint is responsible for fabrication and distribution of precious metals. An ISO 9001-2008 certified company, the Mint is recognized for their innovation within the bullion community, offering a wide range of specialized, high quality bullion products on an international scale. For more information on Scottsdale Mint, its products and services, visit http://www.ScottsdaleSilver.com