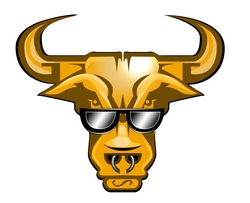 This new layout will help our users find information faster and more easily. I think our
Ottawa, Canada (PRWEB) August 7, 2009
Bullion Bulls Canada is pleased to introduce precious metals investors in Canada, and around the world to a new destination for economic and precious metals commentary, detailed coverage of precious metals mining stocks, and a large selection of investor tools and services. With an everyday growing investor networking community, Bullion Bulls Canada is ready to launch an updated, more sophisticated format.
Technical Coordinator, C.J. McNamara - who has worked for weeks on preparing the transition, stated, "This new layout will help our users find information faster and more easily. I think our "real-time search" is the most useful addition, whether looking up ticker symbols or searching for a commentary or news item."
The improved search-engine is only the beginning of additions and improvements. There is now real-time coverage of mining & metals news releases, to allow investors to stay on top of what is taking place in the market, without leaving the site. New, bulletin boards will allow much easier dialogues between members, who can now also create their own blogs, as an alternative to the existing "discussion groups".
Research and Community Director, Brian Boutilier is the latest addition to the Bullion Bulls "team". While Brian has been very active in interacting with members of the site, he has also shown himself more than capable of providing site-users with detailed summaries of Canadian-listed precious metals mining companies.
Exclusive, on-site commentary will now be categorized into "Canadian", "U.S.", and "International" sections, with individual sections devoted to gold and silver. "Featured" commentaries will continue to be displayed through the main picture-panel.
While Bullion Bulls Canada will still provide the fine work of such other authors as Chris Martenson and Darryl Schoon, the majority of Bullion Bulls' content will continue to be provided by Writer/Editor Jeff Nielson. His work is regularly seen on sites around the world, including Seeking Alpha, Feed the Bull, Gold-Eagle.com, and Stockhouse.com. Jeff's recent "Silver Bullet" commentary was featured on both the GATA web-site, along with Jim Sinclair's jsmineset.com.
###