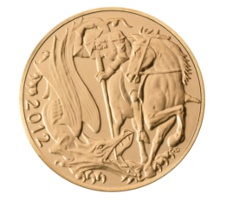 Given the excellent returns gold investors have experienced since the start of the financial crisis, the benefit of CGT-free British gold coins is becoming increasingly obvious to wealthy UK tax paying investors
Birmingham, UK (PRWEB UK) 29 November 2011
The continued increase in gold prices has highlighted the benefits of choosing the only capital gains tax free way to invest in physical gold. Savvy investors are buying record numbers of sovereigns and gold Britannia coins as they increase the amount of gold in their portfolios. Because of their status as British Legal Tender, gold sovereigns and Britannias are Capital Gains Tax (CGT) exempt.
"Given the excellent returns gold investors have experienced since the start of the financial crisis, the benefit of CGT-free British gold coins is becoming increasingly obvious to wealthy UK tax paying investors" says Rob Halliday-Stein, Managing Director of the UK's leading online bullion dealer – http://www.bullionbypost.co.uk.
A gold investment of £50,000 in September 2007 would now be worth over £150,000. If this gold investment was made in any way other than British gold coins the gain would be liable to CGT. Therefore the tax saving to a CGT paying individual looking to realise this investment would be up to £28,000. Obviously if the gold price continued to increase and the investor chose to hold on to their gold the tax savings could be even greater.
"As well as increasing numbers of wealthy investors seeking tax-free gold coins, here at Bullion by Post we're seeing a huge uplift in first time investors, many of whom until very recently had no awareness of how easy it can be to buy physical gold. More and more people are losing confidence in the wider economy and fear a double dip recession or worse. Savers are being hit hard with very low interest and high inflation and are looking for ways to protect the value of their savings." says Halliday-Stein.
Last week saw the long awaited launch of the brand new 2012 gold sovereigns, which to celebrate the Queen's Golden Jubilee is sporting a completely new look on the reverse of the famous coin. Commissioned to design the new look sovereign to be struck by the British Royal Mint, was renowned sculptor, Paul Day. Sovereigns are available to investors in bulk from Bullion by Post at very competitive margins.
Last week's 2012 sovereign launch resulted in a frenzy of investors looking to get their hands on the new coins. With a gold sovereign costing around £270, sovereigns offer an excellent opportunity for wealthy investors and first time buyers alike that may be looking to invest a relatively small amount of money in gold. "We recommend everybody should hold around 10% of their liquid wealth in gold as a method of insurance as other investments tend to suffer when gold is buoyant" says Halliday-Stein.
Gold sovereigns are also becoming an increasingly popular alternative gift idea due to the specific dates which are included on the coin when struck. Brand new uncirculated gold sovereigns are commonly purchased to commemorate children's Christenings and special birthdays, as well as to celebrate landmark events in the calendar year such as Diwali.
Based in the famous Birmingham Jewellery Quarter, BullionbyPost.co.uk offers a wide range of gold sovereigns including date specific coins, brand new 2012 sovereigns and mixed year sovereigns for the very smallest margins available. The company is a Royal Mint authorised distributor and only sells authentic Royal Mint gold coins and proof coins, with substantial savings available compared to the prices quoted by the Royal Mint.
If you are interested in physical gold bullion investment, visit the Bullion by Post website: http://www.bullionbypost.co.uk or call us on 0121 554 9914 where our friendly and knowledgeable team will be happy to assist you. Bullion by Post will also buy gold back at 98% of the global spot price but, of course, buyers are free to sell it anywhere. Movement of gold is unrestricted in the EU and to many other countries.
###