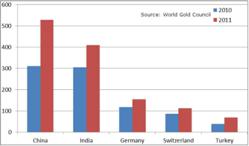 Here at Bullion by Post, gold bullion sales are up 70% in the last 12 months with individuals looking for new ways to protect their wealth and diversify their portfolios
Birmingham, UK (PRWEB UK) 14 December 2011
The World Gold Council publishes third quarter gold demand increases of 6% year on year to 1,053.9 tonnes, worth a record US$57.7 billion. These results were driven by huge spikes in people investing in gold bullion which grew 33% on the back of increased demand and volatility in the gold price, with the UK's leading bullion dealer Bullion by Post also experiencing significant growth in consumer demand.
With worldwide demand for gold jewellery suppressed and the technology sector static, investment in gold bullion has continued the upward trend experiencing unprecedented growth in China and India in particular. Gold bullion bar and coin ownership in China has grown 69.5% in 12 months, with an estimated 528 tonnes of gold now held by private investors making China the world's largest gold owning nation, followed by India who saw a 34% increase in gold ownership to over 409 tonnes.
"With gold ownership in China and India reaching new heights, much of this demand is now being mirrored in Europe and the UK" says Rob Halliday-Stein, Managing Director of Bullion by Post - http://www.bullionbypost.co.uk/. "Here at Bullion by Post, gold bullion sales are up over 70% in the last 12 months with individuals looking for new ways to protect their wealth and diversify their portfolios".
These latest statistics suggest that investors all around the world are using gold to hedge against the effects of the world debt crisis which is reaching dangerous levels in the UK and European economies, as well as the US. In addition to consumer demand on the up, Central Bank purchases of investment gold are up 353% through the third quarter of this year from 2010.
However it's not only China and India seeing huge growth in the ownership of gold bullion, European countries including Germany, Switzerland, Turkey and France have also experienced record uplifts in consumer demand. Of the European nations France and Turkey saw the largest increases in demand with gold bar and coin ownership up over 1,600% and 80% respectively, however Germany's 31% rise in the ownership of gold makes them Europe's largest gold owning nation with 154.2 tonnes held.
With both consumers and Central Banks in many of the world's most powerful economies buying unparalleled amounts of gold, has there ever been a better time to buy gold? Gold bullion offers the ultimate insurance in turbulent times, as well as offering individuals physical control and ownership of part of their wealth. As well as being a great preserver of wealth, increases in demand and gold price volatility in recent years has made gold bullion an unrivalled investment outperforming property, stocks and shares.
Based in the famous Birmingham Jewellery Quarter, BullionbyPost.co.uk offers a wide range of gold bullion, including gold bars available in all investment sizes and a full range of gold coins such as sovereigns and half sovereigns, Krugerrand coins and gold Britannias, all available at low margins. The company is a Royal Mint authorised distributor and only sells London Bullion Market Association-approved bars.
If you are interested in physical gold bullion investment, visit the Bullion by Post website: http://www.bullionbypost.co.uk or call us on 0121 554 9914 where our friendly and knowledgeable team will be happy to assist you. Bullion by Post will also buy gold back at 98% of the global spot price but, of course, buyers are free to sell it anywhere. Movement of gold is unrestricted in the EU and to many other countries. Please note all statistics regarding gold demand were provided by the World Gold Council.
###