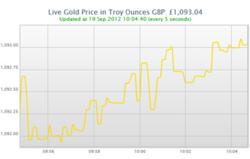 Birmingham, UK (PRWEB UK) 19 September 2012
With consumer confidence in the economy approaching an all-time low following Bernanke's announcement the US Fed are to resume printing money coupled with increased gold price movements, BullionByPost have seen a huge uplift in visits to their website with investors looking to follow the gold price closer than ever.
Tracking the live gold price used to be something for traders and the very largest bullion investors; however with the increasing prominence of gold, investors of all sizes are now keenly following the live second by second movements in the gold price looking for the perfect opportunity to buy gold.
Some investors feel there is never a bad time to buy with gold's reputation as the ultimate safe haven. However with consumers becoming increasingly savvy, watchful buyers are now trying harder than ever to pick the best time to enter the market for the first time or to add more gold to their investment portfolios.
BullionbyPost's newly launched charts provide their customers the opportunity to view the gold price, silver price and platinum price in any Time Frame, Weight and Currency of their choice. Investors can customise their own charts via the options allowing individuals to build the exact chart that they want to see. There's a choice of hundreds of metal price charts including the popular gold price today chart and the live gold price which updates every 5 seconds to provide the most accurate prices in the UK.
With gold and silver prices hitting 6 month highs in recent days following the US Federal Reserve Chairman's announcement of further Quantitative Easing (QE3), BullionByPost has seen a huge uplift in demand for gold and silver bullion. The gold price has experienced a month on month increase of 6% peaking a little below £1,100 at £1,096 per Troy Ounce. In addition, the silver price has seen even stronger results seeing a month on month rise of over 15% peaking at £21.48 per Troy Ounce.
UK investors have been looking to buy British gold coins with 1oz gold Britannia and sovereign coins proving especially popular due to their Capital Gains Tax Free status. September has also seen the highest demand for silver bullion since this time last year when the silver price surged above £26 T/Oz.
If you are looking to track the latest gold and silver prices visit our new Metal Price Charts online at : http://www.bullionbypost.co.uk/gold-price/. If you are interested in physical bullion investment, visit the BullionByPost.co.uk website or call us on 0121 554 9914 where our knowledgeable and experienced team will be happy to help you.
Based in Birmingham, BullionByPost offers a complete range of physical gold and silver bullion, including gold bars available in all investment sizes including our bestselling 1oz gold bar and 100g gold bar, and a full range of gold coins including gold sovereigns, Britannia's and krugerrands, all available at low margins ideal for investment.
All our bullion products include free fully insured next day delivery making buying gold online, quick, easy and secure. BullionByPost offer a complete service and buy back bullion at 98% of the global spot price. Movement of gold is unrestricted in the EU and to many other countries. The company is a Royal Mint, Umicore, Metalor and Heraeus authorised distributor and only sells official mint coins and LBMA approved bars.