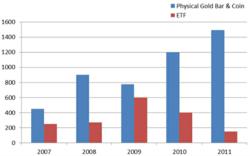 whilst the ownership of physical gold bullion bars and coins went from strength to strength, gold ETF demand saw growth slow year on year.
Birmingham, UK (PRWEB UK) 21 February 2012
The World Gold Council publishes fourth quarter and full year 2011 figures illustrating another impressive year for investment fuelled gold demand with volume growing 0.4% to 4,067.1 tonnes, worth an estimated US$205.5 billion. Again, investment gold was at the forefront posting year-on-year growth of 19% for the fourth quarter. Meanwhile, as widely predicted the jewellery and technology sectors continued to weaken slightly in 2011. However, whilst the ownership of physical gold bullion bars and coin went from strength to strength, gold ETF demand saw growth slow year on year. With the world seemingly turning to gold bar and coin ownership as their preferred method of investment, Bullion by Post, the UK's leading gold bullion dealer also experienced exceptional growth year on year in gold bar and gold coin sales with Capital Gains Tax Free investments such as gold sovereign coins proving particularly popular.
Again, China and India lead the way in the ownership of gold, with Germany, Switzerland and Turkey holding the most gold bullion of the European nations. Investment gold bar and coin ownership in China was up an unprecedented 40% year on year, with an estimated 525 tonnes of investment gold now held by private investors maintaining China as the world's largest gold owning nation. Closely following China was India holding an estimated 366 tonnes of gold amongst private investors posting a 5% increase in the last 12 months. Of the major gold owning EU nations, both Germany and Switzerland still lead the way posting large increases of 26% and 25% respectively.
"With gold demand in major world economies such as China on the up, gold bullion ownership is likely to continue the upwards trend" says Rob Halliday-Stein, Managing Director of Bullion by Post - http://www.bullionbypost.co.uk. "Here at Bullion by Post, gold bullion sales have more than doubled year on year with increased numbers of new investors to the bullion market looking to diversify their investment portfolios and seek strong returns".
These latest statistics suggest that private investors the world over are using gold to hedge against the effects of the world debt crisis which is reaching dangerous levels of uncertainty in the UK and Europe, with the well documented and diminishing situation in Greece currently dominating the headlines. These latest statistics also come on the back of last week's announcement that the Bank of England will be undergoing another round of Quantitative Easing printing a further £50 billion to pump into the UK economy taking the total spend to £325 billion and counting. With a sluggish 2012 widely predicted many economists expect this will not be the end and expect the Bank to extend QE to £400 billion during the course of 2012 alone.
With both private investors and Central Banks in many of the world's most powerful economies seeing fit to buy gold, has there ever been a better time to buy gold bullion? Physical gold bullion offers the ultimate insurance in uncertain economic times, and offers individuals greater control and ownership of their wealth. In addition to being a proven preserver of wealth, increased demand and gold price volatility has earned gold bullion status as an unrivalled investment outperforming all other forms of investment including stocks and property.
Based in the famous Birmingham Jewellery Quarter, BullionbyPost.co.uk offers a wide range of physical gold bullion, including gold bars available in all investment sizes including our bestselling 1 oz gold bar, 100g gold bar and 1kg gold bar, and a full range of gold coins such as gold sovereigns and half sovereigns, Krugerrand coins and gold Britannias, all available at highly competitive margins. All bullion products include free fully insured delivery making the process of buying gold online, quick, easy and secure. The company is an official Royal Mint authorised distributor and only sells London Bullion Market Association (LBMA) approved bars.
If you are interested in physical gold bullion investment, visit the Bullion by Post website: http://www.bullionbypost.co.uk or call us on 0121 554 9914 where our knowledgeable and experienced team will be happy to assist you. Bullion by Post offer the complete bullion service and also buy gold back at 98% of the global spot price. Movement of gold is unrestricted in the EU and to many other countries. Please note all statistics regarding gold demand were provided by the World Gold Council.
###