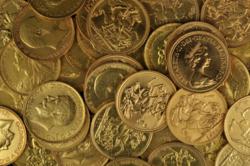 There's little wonder more individuals are looking to take physical ownership of part of their wealth away from the Banks
Birmingham, UK (PRWEB UK) 19 July 2012
With consumer confidence in Banks approaching an all-time low and news of another £50 billion to be printed, investors are looking harder than ever to diversify their portfolios and protect their savings against inflation. Whilst demand for physical gold is increasing in the UK, it is British gold coins which are seeing the biggest uplift in sales. Due to their Capital Gains Tax Free status, savvy investors are looking to buy gold in the form of Britannia gold coins and gold sovereign coins as a means of storing their wealth.
"Here at BullionByPost we're seeing a large number of wealthy individuals and first time investors adding British coins in their portfolios" says Rob Halliday-Stein, Managing Director of the UK's leading bullion dealers, Bullion By Post. "If you're already a Capital Gains Tax paying individual then the savings are potentially huge, and if not, then it maybe something you need to consider for the future". Tax Exempt British gold coins usually attract a slightly higher premium than some other forms of gold bullion such as bars, but the added flexibility and tax benefit far outweighs the additional small outlay when first buying the gold.
As well as to the popularity of British gold coins, there appears to be a growing trend of individuals turning to smaller units of gold as a method of building regular monthly savings in a bid to avoid holding unnecessary money in the Bank. With both interest rates and consumer trust approaching an all-time low after yet further banking controversy, there's little wonder more individuals are looking to take physical ownership of part of their wealth away from the Banks.
June saw the latest Banking scandal with Barclay's fined a record £290m for rate fixing which was soon followed by the inevitable resignation of Chief Executive Bob Diamond. The industry is now set to be investigated by not only the government, but potentially the Serious Fraud Office (SFO) who appear very keen to bring criminal prosecutions against bankers who tried to manipulate the inter-bank lending rates.
If that wasn't enough it was soon followed by the RBS scare where thousands of RBS and Natwest customers experienced problems with their current accounts. This 'glitch' resulted in many nervous households being without their money for over a week with both ATM machines and online banking down. This latest episode illustrates just how vulnerable people are by relying too heavily upon the notoriously unreliable banking sector for access to our entire livelihoods.
In addition to the Banking controversy, the Bank of England have announced a further round of Quantitative Easing (QE3) with the printing of another £50bn to add to the existing £325bn already printed, amassing a total of £375bn of new money pumped into the UK economy and counting. Although, Quantitative Easing is only half the story. Last week George Osbourne announced an emergency 'funding for lending' programme to kick start Banks into lending. The £80bn scheme is the latest desperate attempt to avoid the tightening credit squeeze and help steer Britain away from its double dip recession.
With domestic news this scandalous and regular, it is almost easy to overlook the on-going catastrophe that is the Eurozone. June saw another milestone Eurozone bailout. This time it was the turn of Spain to receive a £100bn 'soft bailout' following the recent bailouts of Greece, Portugal and Ireland. With the Eurozone crisis showing little signs of improving who will be the next nation in front of the 17 strong member panel?
With the Banking sector and Eurozone in disarray and the UK economy showing little signs of recovery has there ever been a better time to buy gold bullion? Buying gold bars and coins could prove to be the ideal way for investors to diversify their portfolios, hedge inflation, and even seek strong returns. Better still British gold sovereign and gold Britannia coins with their Capital Gains Tax Free (CGT Exempt) status, could prove to be the perfect way to invest in bullion.
Based in Birmingham, BullionbyPost.co.uk offers a wide range of gold and silver bullion, including bars available in all investment sizes and a full range of gold and silver coins all available at low margins. All our bullion comes with free fully insured delivery as standard. The company is a Royal Mint authorised distributor and only sells London Bullion Market Association (LBMA) approved bars.
If you are looking to buy gold online, visit the Bullion by Post website: http://www.bullionbypost.co.uk or call us on 0121 554 9914 where our friendly and knowledgeable advisors will be happy to assist you. Bullion by Post also buy gold back at 98% of the global gold price, but of course buyers are free to sell it anywhere. Movement of gold is unrestricted in the EU and to many other countries.