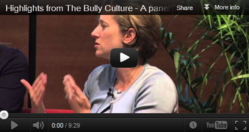 Bullying is a very complex dynamic that affects everyone.
Beachwood, OH (PRWEB) October 31, 2012
Bullying experts are featured in a new video excerpt based on a recent panel discussion presented by Your Teen Media, University Hospitals Rainbow Babies & Children's Hospital and Lawrence School.
The bully event, which was held Sept. 5, 2012 at Tri-C Corporate College East, followed a Parent Expo.
Panelists included Lisa Damour, Ph.D., Director of the Center for Research on Girls at Laurel School; Carolyn Ievers-Landis, Ph.D., Psychologist at Rainbow Babies & Children's Hospital; and Jason Culp, Head of Upper School at Lawrence School.
View the bullying video here:
http://yourteenmag.com/2012/10/bullying-advice-for-parents-of-teens/
Bullying is also the focus of the Fall 2012 issue of Your Teen magazine, which supports Bullying Prevention Awareness Month.
"The free video includes valuable insights and practical advice from experts who the complicated topic of bullying," Editor-In-Chief/Publisher Susan Borison says. "Bullying is a very complex dynamic that affects everyone, including the person who bullies, those who are bullied, parents, teachers and more. Even kids who simply observe acts of bullying are affected."
About Your Teen Magazine for Parents
Your Teen addresses the challenges inherent in raising teens and helps parents to continue the journey toward the goal of successful parenting. In the magazine format, parents can pose questions, offer personal tactics and hear the different perspectives of professionals, other parents, and teenagers on relevant topics. Your Teen hopes to ease the worry.
Your Teen is available in Barnes & Noble.