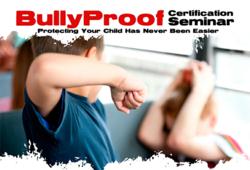 This Seminar WILL Stop Your Child from Being a Victim... EVER!
(PRWEB) July 19, 2012
Jungle Gym Martial Arts New Rochelle will be holding a 100% Free BullyProof Certification Seminar! Please Visit: http://www.BullyProofNow.com to Register for This Free Seminar.
Attention Parents: This is an Emergency Situation! - Please Read
Bullying is the number-one social issue in schools today! Bullying Must be taken seriously. Too many children are being emotionally and physically injured due to Bullying.
There are many documented reports of the long-term effects that this type of mental and physical abuse (Bullying is mental and physical abuse) can have in the long term. Many people live their adult lives with long-term effects from the bullying they experienced as a child.
Jungle Gym Martial Arts will not stand by and watch this happen. The Jungle Gym has been the pioneer for introducing life changing programs and educating our community.
With the Parent's help and support, This Battle will be Won!
The Jungle Gym will teach your children to understand and resolve conflicts nonviolently through a special program that combines the disciplines of education, psychology and the practice of the martial arts.
At the Jungle Gym the students learn how to use the Martial Art of fighting without fighting amongst many other methods that will ensure that your child be BullyProof! Jungle Gym Martial Arts Programs teach young people the total set of skills they need to feel confident to resolve conflict before it begins. It combines physical self-defense skills, which give the young person the ability to resolve a potential threat peacefully. The BullyProof component of the Program has simple but powerful strategies that help children learn to assertively and confidently stand up to bullying and teasing.
Jungle Gym Martial Arts, wants to work together with the parents to help the children successfully handle the violence they face daily. This is a special announcement of our 100% Free BullyProof Certification Seminar . This Seminar is completely free and open to the public. The Jungle Gym Martial Arts Program has proven itself over the years to be developmentally, educationally and psychologically sound activity that young people can enjoy and benefit from. The BullyProof Certification Seminar will teach your child the skills to cope with Bullies, resolve conflict and deal with violence.
Make sure to Call 914-355-5955 AND R.S.V.P. for the 100% Free Seminar as there are limited spots available.
You can Also Register Online at