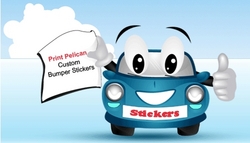 West Palm Beach, FL (Vocus) October 1, 2009
In recent years, more companies and professionals have been persuaded to realize the power bumper stickers have when used as an advertising form. Regarded in the marketing industry as mini billboards, these mechanisms are appreciated for their word of mouth quality that deviates from traditional advertising, and makes them highly effective recommendations for products, services, campaign support, or ideas.
The new website offers custom bumper stickers for anyone seeking to promote their position in a creative way. They can customize car stickers, decal stickers, political bumper stickers, election stickers, and pick your own size stickers that present your message loud, colorful, and clear.
Bumper Stickers: No Longer Reserved for the Trade Show Crowd
Bumper stickers have come a long way in the world of advertising. A larger number of marketing directors of corporations, small to medium sized businesses, and nonprofit organizations alike have implemented custom sticker advertising into their promotional campaigns. Despite the term "bumper stickers," which has traditionally led to people commonly equating these items with vehicle use, modern-day uses for bumper stickers are limitless. From corporate offices to personal instruments, custom stickers can have a place just about anywhere. Print Pelican is inviting business professionals, artists, students, government entities, and others who would benefit from custom sticker printing to visit them online today at http://www.printpelican.com to discuss their important projects, no matter the size or scope.
About Print Pelican
Print Pelican has been in the business of providing an array of fully customized printing services for professionals in a range of industries for over two decades. Included in their list of services are brochure printing, envelope printing, business card printing, calendar printing, and more. The entire process of getting one's project customized and delivered can be conveniently done online. With the launch of their new bumper sticker printing services, Print Pelican is providing more companies with the opportunity to achieve a higher level of success, and helping more individuals realize their promotional goals.
Print Pelican is encouraging those who want to learn more about the benefits of the company's new custom sticker service to contact them today by visiting http://www.printpelican.com or calling 1-800-474-0461 for a free consultation, and get started on customizing their printing project.
For more information about Print Pelican bumper stickers or other services they provide, please visit http://www.printpelican.com/ .
Media Contact:
Grant Morris
1-800-474-0461
info(at)printpelican.com
###