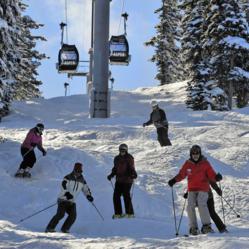 We realize the country is sweltering in heat, but ski season kicks off in a little over 3 months.
Aspen, Colorado (PRWEB) August 09, 2012
BUMPS FOR BOOMERS, North America's only Ski for Life® mogul skiing program designed specifically for Baby Boomers, kicks off its 10th season in Aspen Colorado by offering discounts for reservations made before September 1st, 2012. The 2012/13 schedule includes two four-day clinics and one Master of Bumps Academy in December; three four-day and one three-day mogul skiing clinics in January; a Master of Bumps Academy and four day clinic in February and the final four day clinic in March. New for the 2012/13 season is the "GROOMERS FOR BOOMERS®" clinics offered in January and February.
"We have built a loyal clientele over the past 10 years and we are pleased to offer them a great value" states Joe Nevin, founder and program designer. He states, "We realize the country is sweltering in heat, but ski season kicks off in a little over 3 months. By locking in their ski lessons now and booking Aspen hotels early, clients will save money and have an incentive to get going on their ski conditioning programs."
In addition to the mogul and groomed run ski lessons in Aspen, BUMPS FOR BOOMERS offers free weekly skiing tips and a free video ski fitness program. Bill Fabrocini, Aspen's top physical therapist and training consultant to TRX®, designed the ski conditioning program exclusively for BUMPS FOR BOOMERS.
For more details, visit the Aspen mogul ski lesson website or call 970-989-2529.
BUMPS FOR BOOMERS, based in Aspen, Colorado and founded by Joe Nevin, former Apple Computer executive, is a nationally renowned, accelerated ski lesson program that enables intermediate-level skiers to Ski for Life by teaching techniques to confidently ski moguls and powder. It is an adult specialty program of the Ski and Snowboard Schools of Aspen. Visit http://www.bumpsforboomers.com for information on clinics and to view free weekly skiing tips and fitness video training series.