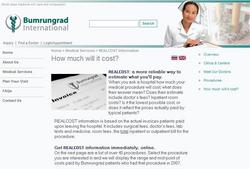 I hope to eventually see all hospitals making this kind of information readily available to the public.
Bangkok, Thailand (PRWEB) October 3, 2008
Bumrungrad International hospital, Southeast Asia's largest private hospital and one of the world's top medical travel destinations, has launched a unique online service to allow prospective patients to anticipate the costs of treatment. Called REALCOST, the service shows what Bumrungrad patients actually paid for over 40 medical procedures at the hospital. REALCOST is on the hospital's website at http://www.bumrungrad.com/realcost.
Until now, finding out what a medical procedure will cost has been difficult. Most hospitals don't provide such information, and only a handful do so online. Others give estimates that exclude significant items, such as doctors fees, that patients will pay when they leave the hospital. Inquirers often have no way of knowing if the hospital's response is an 'average' or 'lowest possible' cost.
"It's difficult for both hospitals and patients," acknowledged Bumrungrad CEO Mack Banner. "You really can't make a good estimate until the doctor sees the patient and knows what treatment will be required. But patients want to get at least an approximate idea in advance, to help them select a hospital and plan for the costs. We wanted to be transparent and helpful in this regard, and we think the way to do that is simply to show what our patients actually paid."
Created by an in-house team of developers and available free to the public on Bumrungrad's website, REALCOST lists 45 procedures -- surgeries such as appendectomy, heart bypass, hysterectomy, and knee replacement, and diagnostic procedures such as capsule endoscopy and colonoscopy. For each procedure, REALCOST shows information about the total bill patients paid upon leaving the hospital, including doctor fees, medication and supplies, and room costs for inpatient procedures. Inquiry results show three figures: a "low cost" which means only one in four patients paid less; a "median," which means half paid more, half less; and a "high cost" which was exceeded by only 1 in 4 patients who had the procedure.
Using a hip replacement as an example, REALCOST shows a low cost of 361,255 baht (US$10,940), a median cost of 413,717 baht (US$12,545), and a high cost of 447,648 baht (US$13,565). A website that helps uninsured Americans estimate US hospital costs shows the average cost of a hip replacement as $39,299 in the U.S.
"Most patients will fall somewhere in the middle," says Banner. "We exclude both the highest and the lowest 25% from the results. Those cases are not typical so it would be misleading to suggest that your surgery would cost as much or as little as that. Of course, after you are evaluated by our specialists, we provide an estimate specific to your case. Then you still have a chance to decide whether to go ahead."
REALCOST is currently based on full year 2007 data. Bumrungrad plans to update its database to keep REALCOST current and to add more procedures. Results can be displayed in any of 45 different currencies.
"Data transparency is such an important component of the contemporary healthcare experience, empowering patients to make informed decisions," says Josef Woodman, author of Patients Beyond Borders. "I hope to eventually see all hospitals making this kind of information readily available to the public."
About Bumrungrad International
Bumrungrad International hospital is Southeast Asia's premier private hospital and a regional referral center for advanced care, offering 554 beds, 30 specialty centers, 1,000 medical specialists and over 800 nurses. It is Asia's first JCI accredited hospital and serves more than one million patients yearly from 190 different countries.
For press inquiries, please contact:
Mr. Kaorop Wongprasert
Public Relations Dept. Tel 662 667 2212
http://www.bumrungrad.com
# # #