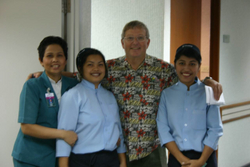 Boynton Beach, FL (PRWEB) October 14, 2010
Bruce Pearson, a 64-year-old man from Boynton Beach, Florida says that he will forgo his future Medicare benefits in his ongoing efforts to avoid the U.S. health care system. Instead, he will travel to Bumrungrad International hospital in Bangkok, Thailand, where he has been receiving his health care since 2005.
Frustrated with the U.S. health care system, Pearson is afraid health care reform will produce even longer lines, unacceptable wait times, too much paper work, and create more stress for doctors and nurses that could impact safety. Pearson says Bumrungrad is "like coming home, compared to a dreaded hospital visit here in the United States."
Bruce Pearson is one of the tens of thousands American patients a year that travel to Bangkok to receive care from doctors at Bumrungrad International hospital; many of its doctors are educated and have practiced at top medical institutions and hospitals in the U.S. American patients save as much as 80% on costs by traveling to Bumrungrad International for their health care instead of receiving it in the United States. A new survey conducted by the Florida-based Medical Tourism Association (MTA) shows the range of U.S. patient satisfaction with Bumrungrad.
The survey reflects the opinions of more than 250 U.S. patients who intentionally traveled to Bumrungrad International and paid for health care out-of-pocket.

93% rated the hospital as "very good" or "excellent"
80% felt their health care was more personalized
82% would recommend to friends, family and acquaintances that they also travel for medical care
88% said they would travel internationally again for care
The survey also found that more than half of the patients surveyed rated their experience better than it would have been in the U.S. and felt "very safe" overseas.
By 2017, according to a Deloitte study, more than 23 million Americans could be traveling overseas to seek better, more affordable and timely health care services.
Bumrungrad International hospital sees an average of 180 American outpatient visits and inpatient admits per day; half are Americans from the U.S. and half are expatriates who use Bumrungrad as their regular hospital. More than 200 doctors are U.S. board certified, and the hospital has an American management team. Bumrungrad International has also won awards for its interior design and hotel-like features such as luxury patient suites, concierge service, tropical gardens, wifi, on-site shopping and international cuisine.
###