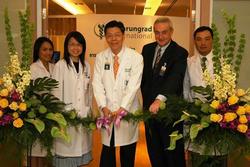 Bumrungrad International serves more than 3,500 out-patients a day; the new out-patient physical therapy clinic will support the increasing number of patients and provide a more private experience with a private therapy room. We have implemented the latest technologies in physical therapy to provide complete rehabilitation services
Bangkok (PRWEB) December 6, 2007
Bumrungrad International has recently opened a new ''Out Patient Physical Therapy Clinic'' to provide physical therapy service and to serve out-patients that have been increased dramatically. The clinic will emphasize on protective rehabilitation and to be one of the leading private hospitals in Thailand to utilize modern physical therapy equipments in medical treatment.
The new out-patient physical therapy clinic, which is located at the spacious BH Suites Building, Sukhumvit 3, will be able to serve patients and their family with a more comfortable and private setting. The out-patient physical therapy clinic provides physical therapy service by licensed physical therapists under supervision of Physical Medicine and Rehabilitation and Orthopedics. The clinic emphasizes on providing functional rehabilitation programs to help patients to return as close as possible to their normal life and to prevent the Repetitive Injury.
Additionally, the clinic also has exercise programs designed to help sustain muscle, enhance muscle performance, evaluate muscle conditions, heal body balance and to develop treatment programs with top-of-the-line equipment and facilities suitable for each patient. For example, body evaluation with Biodex4Pro System, body balance training with Balance System machine that could evaluate the risk of slipping or falling and the development of Warm-up/ Exercise/ Cool-Down programs using EN-Dynamic System. Bumrungrad International is one of the leading private hospitals in Thailand to provide patients with these latest physical therapy technologies.
The clinic also provides physical therapy to injured golfers under supervision of an occupational physician from the Doctor's Golf Clinic under care of physical therapists specialized in golf. The services cover those who are injured from other types of sports as well.
"Bumrungrad International serves more than 3,500 out-patients a day; the new out-patient physical therapy clinic will support the increasing number of patients and provide a more private experience with a private therapy room. We have implemented the latest technologies in physical therapy to provide complete rehabilitation services," added Prof. Dr. Apichati Sivayathorn, Chief Medical Officer, Bumrungrad International.
For press inquiries, please contact:
Public Relations Dept. Tel 02 667 2212
E-mail: profficer@bumrungrad.com
http://www.bumrungrad.com
About Bumrungrad International
Bumrungrad International
Bumrungrad International is Southeast Asia's premier private hospital and a regional referral center for advanced care, offering 554 beds, 30 specialty centers, 900 medical specialists and over 800 nurses. It is Asia's first hospital accredited by the US-based Joint Commission International (JCI) and serves more than 1.2 million patients yearly from 190 different countries.
###