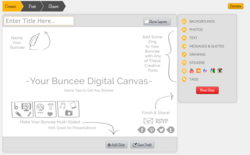 We are excited to see the creative ways our users are applying the new features to their custom digital content creations.
RIVERHEAD, NY (PRWEB) June 27, 2013
buncee®, an easy to use online content creation canvas, launched new design features making it even easier for non-technical users or small business owners to create eye-catching social graphics, presentations, business marketing and promotion materials, interactive clickable product collections and much more. buncee's digital content creation canvas has also been completely redesigned to include helpful tips that guide users through the creation process.
buncee CEO, Marie Arturi notes, "We've received such great feedback over the past few months, particularly since our TiE50 top start-up win last month, that our team really wanted to push themselves to deliver these new features ahead of our development schedule to meet the needs of our users. Our reward has been seeing the exciting and creative ways the new features are being applied by our growing base of buncee creators."
As part of the suite of new features, buncee users are able to export and save their multi-slide presentations as an interactive PDF or save a single slide as a .jpg file making it easy to use the buncee platform as a design tool to create sharable online content. Organizing buncees is also easier with the addition of folders that allow users to create groups of buncees by category or topic.
The buncee design library has also been expanded with new elements focused on education, business, and holidays to meet both professional or personal use. New backgrounds, design stickers, and animated GIFs make designing eye-catching digital content faster and easier.
Next on buncee's agenda are exciting new developments to help educators and students use buncee. The team is collaborating closely with educators to build out buncee functionality with their needs and requirements in mind.
About buncee.com:
buncee® simplifies content creation with an interactive digital canvas and easy-to-use tools that give users a whole new way of creating and sharing customized online and mobile content, whether creating digital educational lesson plans or student presentations, promoting a product or business story, or personalizing e-greetings, invitations and more. By leveraging the capabilities of online tools and iOS devices, buncee makes it easy for even the most 'nontechnical' individuals to create engaging and interactive multi-media creations that can be shared publicly or privately. For more information, visit: http://www.buncee.com.